SaaS stands for Software-as-a-Service. This is a method to deploy software and services via the Internet. This makes them accessible via a web browser and via computer or mobile apps. Individuals and organizations can pay for these cloud-based solutions on a pay-as-you-go basis, monthly, annually, and other payment schemes. There are also platforms that are free to use completely or have free versions that have upgrades.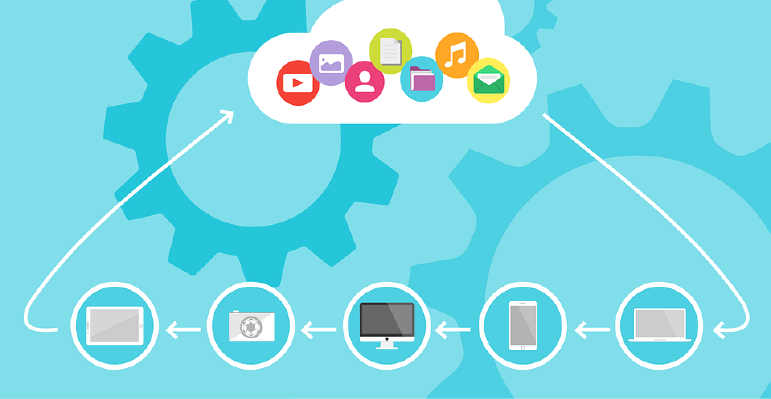 1. SaaS vs On-premise Deployment
How do SaaS services differ from programs that you download and install on your computers? One way to look at it would be to examine the benefits of SaaS vs on-premise applications.
First of all, SaaS has lower operating costs. Since users can use it month-to-month or as needed, companies only have to pay for the services when they are actually employed. If there is a period wherein they do not utilize the solution, they also do not incur infrastructure and maintenance costs since the vendor takes care of that, shares Microsoft.
Meanwhile, on-premise programs require a huge one-off payment for a single license, something that most small businesses and startups do not have the budget for.
Additionally, SaaS applications are scalable. This is advantageous for solutions that are data-heavy such as data gathering and analytics platforms. Since they are based in the cloud, they can expand their storage provision any time when required. But that is not the case for on-premise software, which rely on the storage capacity of a user's hardware.
Examples of SaaS
Before the term SaaS was commonplace, people and businesses have been using them though most may not be aware of it. Because some SaaS software examples are familiar even to the layman:
Document processing software like Microsoft Office 365
File-sharing services such as Dropbox
Real-time messaging platforms for teams the likes of Slack
Email clients like Gmail
Photo-editing applications such as Pixlr.com
The above-mentioned are only a few categories and examples that are considered as SaaS. They have greatly helped freelancers, entrepreneurs, and businesses of all sizes across sectors. However, there are standout industries that have benefited from SaaS.
2. Sectors that Benefited from SaaS
In a report by Forbes, education, engineering, finance, government, and healthcare sectors are at the forefront of cloud adoption, whether private, public, or hybrid. This is not surprising, because the Cloud Adoption and Risk Report by McAfee shows that industry-specific platforms are among the most-used cloud services in 2018.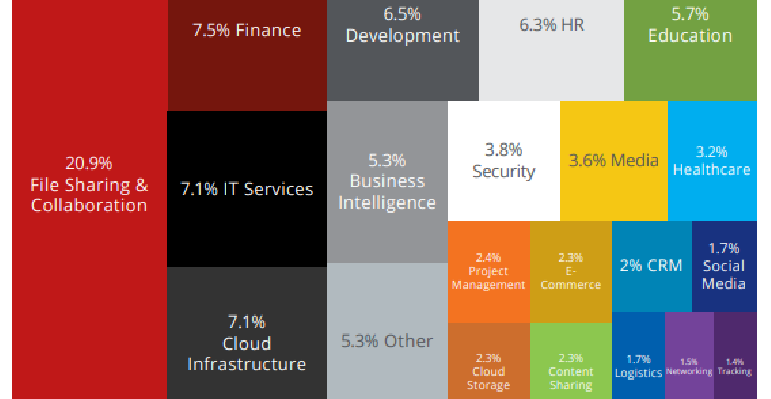 File-sharing and collaboration tools are popular among companies
To expound, the file sharing and collaboration category took the lion's share with 20.9%. Any niche can use this, however. But it is followed by finance with a 7.5% share. Education (5.7%) also made it to the list.
A. Education
A study by the University of Missouri shows that 93% of elementary school teachers are highly stressed, leading them, especially the new ones, to change tracks within five years, as mentioned by NEA. One of the primary reasons is the lack of funding for private schools, causing overflowing classrooms and a shortage of supplies.
While there are deep-seated issues that cannot be solved by software, there are also those that can be alleviated by a SaaS solution. Resource utilization prediction via an enterprise resource management platform can assist administrators and teachers in ensuring that students access the things they need to receive a proper education. This can be done for daily, weekly, monthly, or quarterly periods, depending on the resource and the requirement.
With this, schools can maximize resources without overtaxing them.
B. Engineering
Resource planning and scheduling are crucial in any field of engineering, as a misstep can delay projects and contribute to higher expenditures. In as early as 2012, Sage discovered that 16% of contractors believed it was important to include cloud computing in their toolbox. In just the span of a few years, more contractors (85%) had already implemented or are on their way to implement cloud-based applications, Sage found.
One of the main reasons for engineering companies to sign up for a SaaS service is to avoid conflicts, such as in the use of resources. For example, a construction team has different types of trucks at their disposal, with a few of them distributed at various construction sites. Visibility into the resources allows the manager or team leader to assign and move resources around to fit building schedules.
SaaS solutions benefit those in the engineering industry when it comes to resource requisition as well. Most platforms are not just for supervisors but are designed for staff use as well. This way, they can let their superiors know what they require, how much or how many, and when as soon as the need arises.
Moreover, this cuts down their waiting time for approvals since those in the approval chain are notified immediately by applications. Meanwhile, professionals in this sector who are tight on budget can also check out a list of top free CAD software to explore at no cost.
C. Finance
Banks are increasingly moving to the cloud mainly to address their regulatory concerns. Other than that, they choose SaaS deployment because it reduces their ownership costs and offers them scalability. Important key drivers also include security, shares Moody's Analytics.
Apart from that, finance companies are realizing that SaaS services automate many of their tasks, particularly data analysis. On top of that, they are using internet-based solutions to create a collaborative environment and a setting which promotes productivity. Zoho also adds that banks and similar financial institutions rely on cloud-based software to help them with client communications.
Most importantly, the finance sector counts on SaaS applications for security, particularly when preventing network breaches and protecting data. For the latter, there are cloud-based software that safeguard the information they process by encrypting them from end to end. For the former, it is common nowadays to provide identity and access management tools to administrators to give them full control over who can view what data and do certain actions.
D. Government
The adoption of cloud-based services is mandatory for US agencies. In fact, CIO.gov has an exhaustive plan to ensure that every Federal government office moves to the cloud for better security and to increase savings. Plus, the website cites the faster delivery of life-saving services as a reason to enforce and accelerate the adoption.
In any case, the government needs the right people to do the job. That is where SaaS can help them. Enterprise workforce planning (EWP) platforms have robust talent matrices that centralizes talent management. In other words, it tells the user of the skillsets of employees, their qualifications and certifications, and their industry experiences.
By using this, any organization can assign competent individuals to certain tasks.
That is not all. EWP software helps identify talent gaps to assist teams in closing them. Thus, they can find people with the right competencies to fill the gaps and avoid talent shortages. As a result, government agencies can deliver services smoothly to the public.
Jumping in the cloud
Ninety-three percent of CIOs intend to move their organization's processes to the cloud. Because of that, spending is also likely to increase by as much as 44%, according to a survey by Flexera Software, as more organizations are realizing SaaS software benefits.
However, many organizations are jumping in the cloud too fast, too soon that instead of enjoying the advantages of software technology, they are unable to make sure that their SaaS solutions are secure. This has led to IT managers becoming concerned yet key individuals are not doing anything about it.
That is why CIOs and other executives need to study cloud offerings first before they sign up and implement. If there is a concern regarding a long period of wait, it should be erased, as most SaaS services are up and ready to go within hours, if not minutes. Because the benefits of SaaS do not mean anything if the security of the organization is compromised.