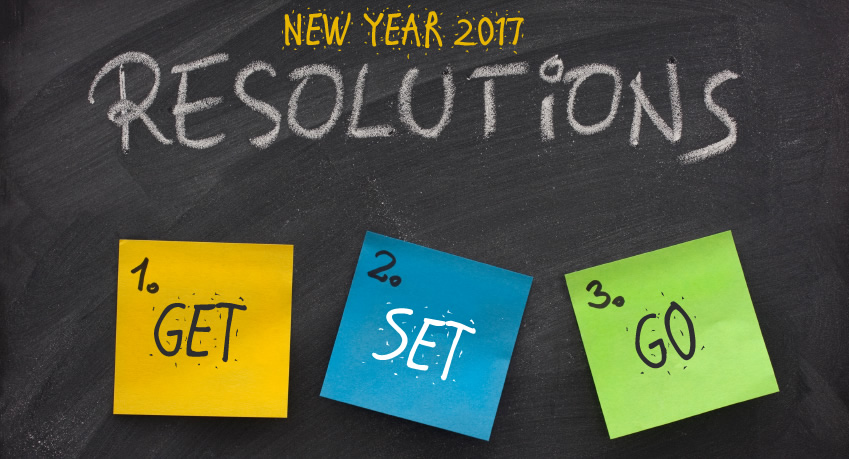 Much like Bing Crosby's "Let's Start the New Year Right" number, the popular sentiment surrounding New Year's has always been about trying to improve ourselves as the year acts as a fresh start of sorts. But given how busy schedules are and how we are often caught in a maze of things, resolutions are reduced to a redundant shadow of our real aspirations. Vowing to be better is not a bad idea. But the undue importance given to the 'momentous' New Year as opposed to the change itself, does little to help fulfill your aspirations. So much so, researches suggest that merely 8% of people achieve their New Year's goals.
This year, take a breather from typical work resolutions at least and try out these alternatives instead!
1. Make a Professional bucket list that does not just serve your organization's needs.
Are you a marketer? Research and find the 10-must have attributes of a successful global marketer. Spend the year trying to fulfill the ones you don't already have. With each task, measure success in terms of your personal learning. Conduct webinars, write a blog, earn certifications and network with industry leaders. Similarly, you may be an engineer, a psychologist, an educator or an artist. You may be a freelancer or a full-timer. Whatever may be the nature of your work, try to improve your skillsets. Do not limit your focus to performing on an organizational level alone and instead enhance your credentials as an individual professional.
2. Work on a List your professional milestones and examine what got you there.
As much as you have areas you can improve upon, it helps to know your strengths too. Start by listing down the biggest accomplishments of the previous year. Weave a story around what got you there. It may be as simple as listing down the times your manager appreciated your efforts or as noteworthy as a promotion. This helps you draw inspiration from your own success, every time you feel like you lack motivation. Besides, you are your most significant and challenging competitor. So this account is a great tool to help you outdo yourself!
3. Picture yourself in roles that excite you. Step up to take responsibility.
Stagnation is nobody's dream. A fresher wants to become an experienced professional, experienced professionals want to be managers, and so on. But merely waiting for your year-end promotion does not help. Instead, picture yourself in those roles and take ownership and responsibilities associated with them. When your manager is on leave, try to minimize your dependence on him/her and prove your efficiency. When you are assigned complex tasks, step-up to learn new things without much intervention. In short, work like you've already gotten that coveted promotion!
4.Write yourself a TEDX talk, explaining where you want to go and how.
Try to make your game plan for the year significant in the larger scheme of things. As much as it is about the next big step you will take, do you know the role this step will play in 5-10 years' time? Try to capture that in a fun, TEDX talk addressed to yourself, given by yourself. Without talking too highly of yourself, make it more about your goal, what could take you there, what are the potential pain points and how you intend to solve them.
5. Make your style of working conducive and supportive to others' success.
Aristotle's 'man is a social animal' remark only gets increasingly relevant in the light of open office work cultures and horizontal hierarchies. This year, make the definition of success about helping others grow, just as much as it is about your personal journey. Fact is, if the cost of the corner office was sabotaging the prospects of deserving peers, your success party will be a lonely one. So make room for growth of your peers and your juniors. Be receptive to constructive criticism as well as new ideas.
Just like New Year's about beginnings, year ends are about seeking closure and peace. Let go of the constant what ifs, make room for the world of opportunities that await you and aim to showcase the best version of yourself you know! This is in practice can be a lot more fulfilling than most resolutions.