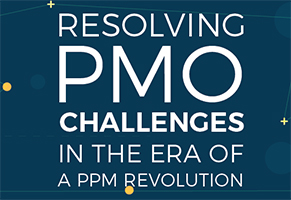 As the business landscape evolves, so does the value-addition Project Management Offices bring. Given that a PMO isn't immune to challenges, the first step to promoting excellence in Agility is to recognize what these challenges specifically are.
From the inability to reach data-driven decisions through unified systems and processes to inflexible reporting analytics, the challenge the PMO faces here lies in accessing a single window of truth that streamlines project portfolio and resource management efficiency principles.
In this eBook, you'll discover the route to-
Strategic alignment to balance prospective projects to business objectives.
Record a 20% cost-efficiency with resource-centric predictions.
Quality project delivery throughout the organization.
Maximized project financials.
Seamless reporting quality for your stakeholders and the PMO.
Download the ultimate guide to resolving PMO challenges and recenter your PMO's efficiency around project resourcing insights