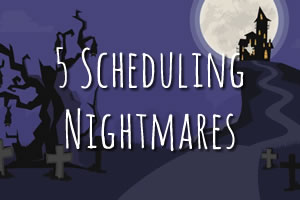 Running a company comes down to managing people properly more than anything else. So why do so many firms rely on primitive Excel spreadsheet software to manage highly-important and repetitive resource scheduling? Sure, it seems like an easy way to get up and running but the cumbersome nature of spreadsheet software combined with a lack of reporting often leads to major problems down the road.
From time sucks that add up to a major "invisible expense" to snowballing logistical problems, here are 5 nightmares you can blame on this internal inefficiency– and 5 ways you can rise to the challenge better.
Nightmare #1: Simple Schedule Changes in Excel Drag You to a Grinding Halt.
In Excel, even the simplest baseline changes (like date changes) require deleting, adding new cells, switching colours, merging/unmerging and other small tweaks depending on format. Scheduling becomes laborious and error prone and bulk changes for shifting projects or resource replacements can suck up hours of time.
The Solution:
Vacations, holidays, training sessions, part-timers, temporary work situations, and more…these masquerade as "unique situations," but they're actually scenarios every business deals with on an ongoing basis. The solution is, to leverage a tool that allows enterprise-wide scheduling and an easy-to-use, easy-to-see visual drag and drop facility that moves components around as best suits each project.
Nightmare #2: Spreadsheets Force You to Manage Multiple Silos of Schedules Across Departments.
Excel leaves a myriad of silo schedules for different departments and locations; integrating and merging these schedules when you need to get an enterprise view is a huge hassle. Coupled with today's lightning-fast data changes, the end result is a constant state of outdated enterprise-level management reporting.
The Solution:
You need to provide access to multiple users throughout your organization and give them the ability to maintain their department schedules through a centralised system. Once you make data changes in the system visible to everyone in real-time, and the organization functions better as a cohesive unit.
Nightmare #3: An Inability to Quickly and Easily Search for the Perfect Person for the Job.
A disorganized Excel system makes it painful to search across multiple-layers of schedules, and there's a huge time lag to get the imperfect results for your search. If you can't immediately identify the best person for the job, or if you just skip that step because it's a nuisance, you lose the edge of hiring and managing the right talent.
The Solution:
You invest a lot into your employees; failing to maximize them is a waste. What you need is a simple facility for enterprise-wide searches in the blink of an eye. When results process instantly, you don't waste precious time– making it that much more likely it'll get done! And you can always be sure you're making the most of your human capital.
Nightmare #4: It's Nearly Impossible to Perform Effective Forecasting and Other Reporting.
Many companies completely lack the ability to forecast capacity and demand. Excel isn't built for this type of process. So they cannot generate regular or ad hoc reports for different levels of management, or they waste a ton of time and effort doing it manually. There's no question about it – a lack of forecasting costs your business a giant competitive edge.
The Solution:
Acquire the business intelligence you need for forecasting capacity utilization and resource requirements. This allows you to adapt to coming changes before they arrive, take advantage of new market opportunities, and stay one step ahead of the competition.
Nightmare #5: Excel Confines Information Exchange to a File-Based Schedule System.
It's not possible to generate a user-specific view of info from a spreadsheet, and so you have to distribute the information through individual files. This is just asking for huge mistakes and miscommunications.
The Solution:
It only makes sense for a cohesive business entity to centralise enterprise-wide data in one single place and allow users to access info that pertains specifically to them anytime they need to.
End result? Saved time, saved work, and improved communication
Scheduling Should Work FOR You… Not the Other Way Around.
It's common to keep on dealing with cumbersome tools and systems when you haven't had the time to assess new solutions or implement them into your organization. But when you're realistic about the energy-consuming nightmares created by Excel scheduling, you realize you can't afford NOT to change.

FREE eBook
The Ultimate Guide to an Efficient Resource Management
Download
Aakash Gupta