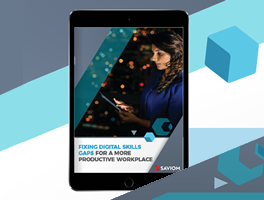 With the inclusion of different technologies in workplaces, being equipped with digital skills is critical, now more than ever. A serious gap in skills and employment has been observed over the years. And the demand for new skills has increased in line with shifts in demand.
This book discusses the different initiatives that workplaces can undertake to improve digital knowledge among your resources. From training sessions to hiring skilled people, there are a number of available options. And it is not just the employees. Technological upgradation can help boost your business in the long run as well.
Download the eBook to-
Identify the current skill gaps in your employees
Devise ways to plan initiatives around digital skills
Digitally transform your business in tune with the current trends
Figure out new promotional methods enhanced by digital skills
Start reading this eBook today to figure out the route to fixing the digital skills gaps and create a productive workplace.

FREE eBook
The Definitive Guide for Resource Planning and Forecasting
Download