The impeccable growth in industries has led to a fierce competition amongst companies to recruit talent. This recruitment is driven by several factors, from an organization's physical environment to the management stability. Employees set high standards for their workplace environment as it impacts their productivity more and helps them thrive.
In the endeavor to foster a positive culture, attract and retain valued talent, employers today are focused on upgrading their workplace. Since employees are a vital organizational asset, their working efficiency and engagement are an employer's top priority. Surplus investments are being made in these areas to increase employee retention.
With the working style and dynamics changing rapidly, employees expect their workplace environment to be the same to enhance creativity and innovation. Otherwise, employees who are dissatisfied and disengaged will eventually exhibit a disgruntled behavior that contributes to workplace toxicity. In fact, a study from Gartner states that employees who are satisfied with their workplace are 16% more productive, 18% more likely to stay, and 30% more attracted to the company over competitors.
What led to the shift in employer's priority today?
How did aesthetics and design become an untapped tool for recruitment? What changed over the years that compelled employers to take initiatives for an improved work improvement? Below are the answers to these questions:
How an ideal work environment affects efficiency
Subject to tangible technological advancements, the work ecosystem has reinvented itself in the industry. From brick and mortar offices to coworking spaces targeting startups, the work culture has come a long way. In rise to digitalization, a need to restructure the office space was felt to provide better connectivity to employees to promote collaboration. Not just that, several tech innovations led to self-regulation of mundane tasks giving enough space to employees to focus on critical thinking and creativity and bring in innovation in the organization.
Unlike previous times, a company's growth and success today is driven by innovation that requires a collective team effort. This gave a rise to a collaborative and creative work environment where interdepartmental resources communicate with each other to get the best possible outcome. Moreover, the workforce is dominated by millennials and GEN-Zs today who are more suited to flexible and liberal work environments to bring in their best on the table.
Today's workplace ecosystem is branched out in 4 dimensions- Office space, place, talent and technology. An office space plays an important role than what it is given credit for. It can speak volumes about your work culture. And since flexibility is the motivational drive for today's generation, it gave rise to coworking spaces, open door policy and personalized cubicles.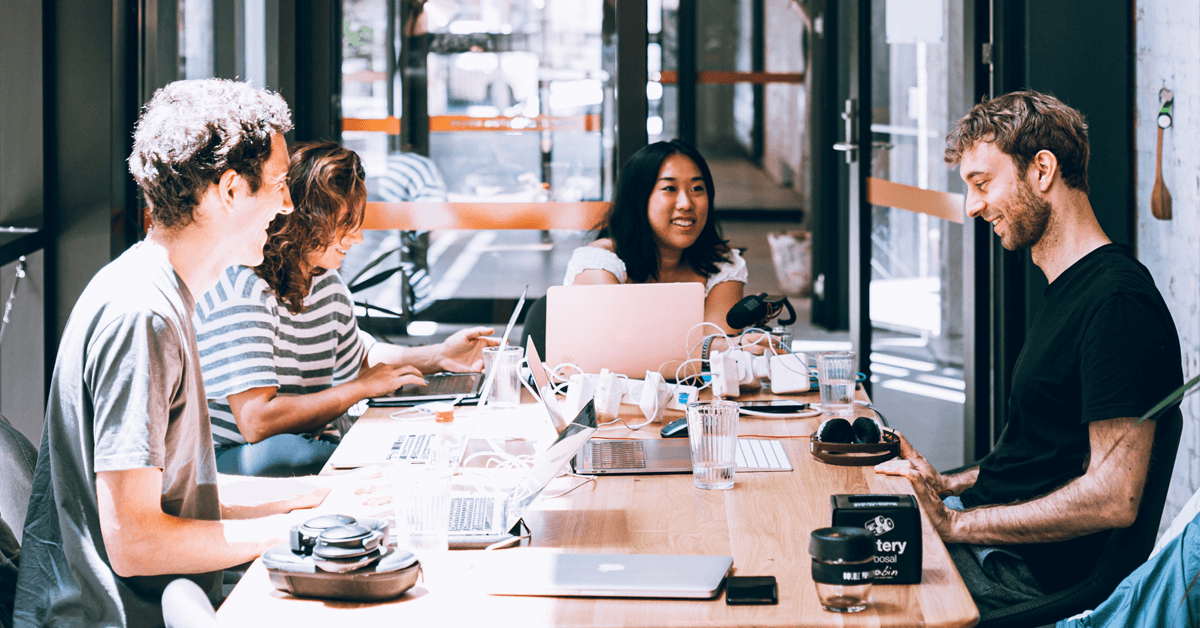 It goes to show that your workplace should be molded to suit these dimensions. Let's understand the ways to do so:
1. Promote wellness
When you are expecting employees to excel in their performance, it's imperative to ensure their physical and mental well-being. Employers should initiate wellness programs and provide a stress-free environment to their workforce. Not only that, environmental wellness also affects employees' productivity. A report from future workplace wellness study states that 31% of employees lose 60 minutes or more from their working hours due to poor environmental wellness factors.
Hence designing a quality workplace space that takes care of all these factors leads to a more productive culture. For example, when the employees are connected to the environment through substantial amounts of daylight and natural materials, and are more comfortable due to better ventilation, employers will see a reduction in absenteeism through improved health. What's more? Enterprise-wide charity runs, fitness competitions, yoga classes, healthy food options and ergonomic workstations will contribute towards a healthy and efficient workforce.
2. Embrace diversity
Procedural knowledge, when combined with cutting edge technology yields exceptional results and will help your business soar. This perfect blend of experience and knowledge on latest tech is only possible when you embrace multigenerational teams. Your organization sets an example when unique ideas are heard and accepted from employees regardless of their age, culture, caste and creed.
In the age of globalization, embracing a diverse culture will give your business a global identity. Diverse culture does not limit to race or religion or age, it also includes treating disabled people with respect, treating them as they are no different from others. You will be surprised to know the talent they behold if you give them equal opportunities to voice their ideas and opinions in creative ways. Hence, a culture where transfer and reverse-transfer of knowledge and skills happens leads to a more friendly work environment and enhances employee engagement.
3. Leverage technology
Digitization has taken over reigns in the 21st century. The unimaginable innovations have reinvented lifestyle and workplaces both. Hence, transforming an organization is unthinkable without technological intervention. Tech advancements led to improved connectivity which simplified video conferencing and remote working, and hence is an imperative tool in the age of globalization. With AI, IoT and automation in the picture, workplaces can become more efficient and productive.
Integration of AI and automation can do the routine tasks for employees giving them enough leeway to enhance their innovative and critical thinking. You will get better insights and can take data-driven decisions for your business. This is not the end of it! Several tools can help you inculcate collaborative culture and will help you manage your resources and projects better. Hence, leveraging technology is necessary today as it enables uninterrupted communication, sharing of files and data and flexibility to your employees.
4. Improve communication
Remember the expression, 'two heads are better than one?' Encouraging and inculcating a collaborative culture requires work and effort from employees and employers both. An open and constructive communication between team members and managers is necessary to break silos. Both should be cognizant and mindful of how and where they interact since it directly affects the office environment. Effective communication builds a stronger team and helps you convey your mission and goal with clarity.
Your workforce feels valued and motivated when they are given a platform to contribute. Moreover, positive reinforcement enables greater productivity levels and helps them grow professionally. A strong team is built on the grounds of cooperation and communication. However, strengthening your team takes effort. You can implement gamification techniques and organize various team building exercises and activities.This brings your team members closer and lets you gauge their strengths and weaknesses.
5. Maintain work-life balance
According to a Deloitte survey, millennial workers value work-life balance over other job characteristics. It has also become the topmost agenda for employee engagement and employee retention practitioners. Offering flexibility of working remotely or conducting work on the go does not only increase efficiency but also gives your employees a sense of freedom which is crucial for them. Since this generation has grown up as digital natives, they are accustomed to connecting via different technological means.
Only remote working does not constitute in achieving work-life balance, you can encourage this during office hours too. Sparing some time for fun and frolic will give them a break from piles of workload and will lighten up the working atmosphere. You can also provide them more vacation time, paid holidays and several other perks that will help them focus on themselves and their family along with work. Employees will stay stress-free and satisfied with the workplace eventually increasing employee retention.
The summary
A shift in culture and mindset demands for a transition in the workplace environment too. Build a people-centric workplace that caters to employees' needs and requirements keeping in mind that productivity is maintained. Lead them by example, pour on their passion and connect with them to bring out the best in them. Leveraging the tips mentioned above will help you build a better and improved working environment that will increase employee satisfaction. A modern workspace will give your business the competitive edge and will help you outstand in the industry.

FREE eBook
The Ultimate Guide to an Efficient Resource Management
Download
Anuradha Mansinghka