It is needless to say that the organizations want to build and retain an efficient resource pool. The skill set and hard work of the resources decide the outcome of your project's success. Thus, retaining them for the long haul is vital to ensure profitability and business success.
However, despite following the best resource management practices, organizations often face challenges in cracking the ideal resource retention strategy.
Employee's expectations go beyond a mere paycheck today. They prefer a rewarding work environment that will provide them opportunities to grow and excel in their career.
The onus is on decision-makers to ensure that they facilitate an employee-centric culture while keeping in mind the firm's long-term objectives.
This article takes you through some tips you can leverage when formulating a meaningful employee retention strategy and nurture a positive work environment.

1. Hire the right resources
Hiring a resource should never be a spur of the moment decision. It requires meticulous planning and preparation to ensure the right fit for successful project implementation.
An efficient capacity planning solution identifies the skill gap and helps employers recruit the right talent ahead of time. It provides foresight into the capacity and demand gap and enables you to take the right measures to mitigate shortages or excesses of resources. Managers can stay forewarned and proactively implement the resourcing treatments such as training, hiring, adjusting timelines, actively marketing excess capacity etc. to bridge this gap.
It eliminates last minute hiring costs and maintains a quality resource pool to avoid future project bottlenecks.

2. Allocate the right resource to the right job
If managers allocate a task to a resource that does not align with his/her skill set, it will disengage them and reduce their productivity. If the resources are underqualified, then they can feel frustrated, burnout and delay delivery. If the resources are overqualified, they might lose interest and feel their potential is not getting realized. In either case, chances of turnover are high. Allocating the right resource to the right job is therefore important to ensure both employee and client satisfaction.
To ensure successful resource allocation across the enterprise, managers need to implement an intuitive resource scheduling tool. It provides a unified view of their workforce's skills and schedules and allows you to book on suitable projects. When your employees feel their competencies are deployed in the right place, they will feel motivated and continue with your organization.

3. Optimize workforce utilization
Deloitte survey reveals that "42% of employees have left their job due to burnout". Overutilization can put employees under immense pressure and can contribute to employee attrition. At the same time, underutilization can lead to disengagement and low morale. Thus, optimizing employees' utilization is critical to leverage their skills at maximum potential and retain them.
Managers need to keep in mind that effective utilization is not just about working too many hours. Productivity must go hand in hand with utilization. They must therefore ascertain that employees' maximum time is booked for strategic/billable work. Spending time on mundane admin tasks or BAU activities will neither put their skillset to the right use nor generate profits for the firm.
Employers can make adequate use of dashboards to measure and get a comprehensive view of employee utilization levels.
Employee satisfaction and enhanced productivity are the key indicators of effective utilization.

4. Minimize bench time
Once a project gets over and if resources are not scheduled for another project, they will spend bench-time until they are allocated a new project. Extended bench time leads to significant issues such as lesser ROI as the resources are not generating any revenue for the organization. It can lead to planned attrition which affects firm's reputation as well as unplanned attrition when employees begin to look for other job opportunities for growth and development.
For effective bench-management and to reduce unplanned attrition, managers can employ an effective resource management tool which will predict resources that will end up on the bench in advance. Project vacancy reports can be used to quickly assign them to billable or strategic work before they land-up on bench. In case their skills are not suitable for project vacancies, on the job training or reskilling can be taken up to make them billable. Moreover, advanced planning on pipeline projects will help you allocate them better
5. Organize effective team-building activities
Facilitating strong bonds amongst colleagues is proven to improve the efficacy of employees and enhance employee engagement. Companies that provide a high emphasis on employee retention must highly value interpersonal relationships. This is because coherent teams result in enhanced communication, lower stress levels, and greater output
According to Goremotely, "extremely connected teams demonstrate a 21% increase in profitability". Moreover, if employees feel they have made meaningful friendships at the workplace, they are more likely to stick around.
Managers should therefore invest in team-building activities to promote a cohesive work culture. One example is the buddy system- when a new employee joins, they are assigned a mentor (buddy) from the same team who hand-holds in following the protocols. The Buddy system ensures the new employee is well integrated into the team and company. Other ways to empower the team are organizing monthly team lunches, weekly informal meetings, and so on.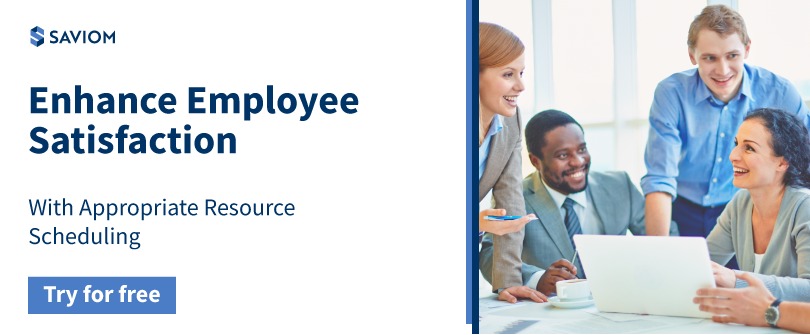 6. Offer flexible work schedules
In the post- COVID-19 pandemic era, work from home has become the new normal. A healthy work-life balance is an essential aspect of job satisfaction. Flexi-work hours may be a luxury to specific businesses, but adjusting the hours and planning response times gives employees better focus and results in higher efficiency. Studies have shown that flexible-work schedules can enhance the well-being of employees.
Furthermore, when managers consider team member's skills and interests while assigning work, it enhances employee engagement and productivity. When you keep your resource's interests in mind, they feel valued and it motivates them to perform better.
7. Plan training & development programs
Providing training and development programs displays the commitment given by the company. A resource manager can help the resources by projecting a career path, thereby giving a purpose and setting direction. Managers can implement an Individual Development Plan or IDP to help employees reach short and long-term career goals and improve current job performance. Training facilitates self-growth and will allow the resources to contribute better. They can take up more responsibility in the team or even be eligible for higher roles.
Managers can track the project's progress and gauge the employee's key strengths and weaknesses based on the way they perform the tasks. Based on this, they can motivate them to learn new skills and practice on the job. When the workforce feels that their goals and objectives are being taken care of, they are likely to stay with the firm for a longer duration.

8. Identify key performers
Every business needs a set of worker bees who are diligent in their work. It is expected of employees to show up promptly on time and get the job rightly done and keep the flow of work going. To effectively grow your company, you need to nurture and reward the top performers to keep up the employee morale of those who put a little extra into their work.
Employees who go beyond their job description and exhibit leadership deserve a pat on the back with rewards and recognition.
Study reveals that identifying key performers heightens productivity and strategically improves the business. If it gets rewarded, then there is a high chance it gets repeated!
9. Share regular feedback
Sharing constructive feedback with employees regularly enables them to see themselves from the employer's perspective. You can acknowledge their strengths and also address the areas of improvement. When they know their leaders are promoting individual development, it will boost their motivation levels and eventually increase retention.
While giving feedback is necessary to help your workforce grow, it is also important to take feedback from them. Employee feedback in the form of surveys and one on one sessions is instrumental in sharing their experience, expectations and makes them feel valued. If something is not aligning with their goals, as a manager, you can work on it and provide them more opportunities. Expressing gratitude should also be a part of feedback sessions to acknowledge their work and efforts.
10. Convey the firm's goal
Employees must share a common goal and be aware of what they are heading towards. Goal-setting facilitates staff across the organization to make decisions considering long term and short term targets. This process of aligning the company's goals with employee's tasks helps them to achieve tangible results.
Moreover, employees are aware of how their work is helping the organization reach the milestones. The company's goal or vision should be inspirational for all employees to share and inculcate in their daily duties. Because if your resources do not have a set-goal, they will show disengagement at the workplace which will gradually lead to unexpected turnover.
For Example, the food giant, McDonald's vision is "To be the best quick service restaurant experience. Being the best means providing outstanding quality, service cleanliness, and value so that we make every customer in every restaurant smile." They define their goals to every employee so distinctly as if to define a roadmap to success.

Key takeaways
The workforce is the success driver for any organization. In the long haul, companies need profitability & success to thrive and stay relevant in an ever-evolving market. With an evolved employee-centric culture, employers need to ensure that they provide an optimistic work-environment to retain their top talent.
The above-mentioned strategies coupled with a modern resource management tool can sort your resource related worries and help you retain valued talent within the firm.
The Saviom Solution
SAVIOM has over 20 years of experience helping multinational clients manage their resources efficiently and effectively. With over 20 years of experience, this Australian-based MNC has a global presence across 50 countries and has helped 100+ clients meet their specific business goals. Saviom also provides tools for project portfolio management, professional service automation, and workforce planning software. So, SAVIOM can help your business to establish an efficient system geared towards your specific business challenges.