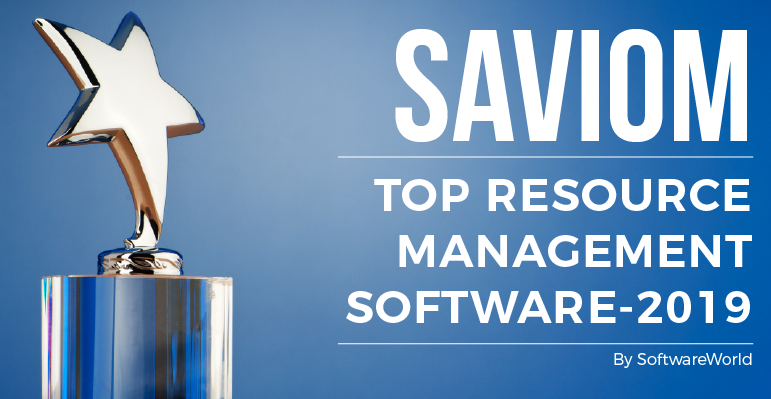 Resource planning is a convoluted part of business that aids in scaling predictability and future performances. Business expansion involves distinctive planning and management focusing on- inventory, human skills, production resources, information, and technology, financial resources.
Resource Management Software initiates planning, scaling the company's competencies, and scheduling projects based on obtainable resources. Resource management has emerged as a discipline at par with project management, given how it contributes to generating historical reports and enabling project managers to take corrective actions where required.
1. About Saviom
"Maximise Productivity, Smart Optimisation with Robust Planning and Scheduled Task"
Saviom is synonymous with resource efficiency. The company's flagship for Enterprise Resource Management software has enabled businesses in over 50 countries to capitalize on profitability and productivity. The tool lets leaders anticipate resource requirements and optimize best utilization.
This software is a proprietary solution to plan resources, prepare pipeline projects, retrain, reallocate resources, and provides a Gantt scheduler for real-time visibility and planning. Saviom engenders optimal amount of work through its tracking report and activity management. With user-friendly design and drag-drop feature, Saviom's resource management software is the unanimous choice for businesses working in a disruptive landscape.
With a plethora of customizable screens, reports, portals, and dashboards, Saviom's business intelligence analytics helps businesses accomplish their long-term goals.
2. Benefits of Implementing Saviom
A. Resource Scheduling
Saviom enables real-time visibility into workloads and skills being used. Even the most complex schedules can be easily managed with Saviom's multidimensional and interactive tools. The Gantt scheduler enhances optimized work by allocating resources and making it easier for your team to grab new projects without worrying about conflicting dates, time, and resources.
B. Optimized Capacity Planning
Project planning is crucial for business development. With Saviom ERM, management gets a 360-degree view of available resources, resulting in better planning, task scheduling, and utilizing human skills. The software generates insightful reports on past operations, forecasting business capacity to meet demands. Enterprises can easily identify shortfalls and excesses of resources that enable in forwarding planning, reducing risk, costs, and achieving success.
C. Highly Customizable
Project requirements change constantly, and hence requires thoughtful processing of an existing system. Saviom offers commissioned reports and handling of resources with its multi-dimensional tools, justifying business requirements for user-configured reports. The customizable resource management software allows users to export data to an excel spreadsheet, allowing them to pick their own sorting dimensions.
D. Seamless Integration
Saviom's resource allocation software is powerful, yet easily integrates into the system. It controls sync frequency and offers only the type of data required, thus eliminating time wastage and better project handling. Saviom is customizable, highly scalable software that seamlessly integrates with multiple data sources, ERP software, existing BI, and reporting systems.
3. Why We Chose Saviom as Top Resource Management Software?
SoftwareWorld proudly accredits Saviom as the top resource management software for the way it assists business enterprises achieve goals through resource optimization. Saviom is designated as a robust Resource Management Software that enables business to fulfil utilization of resources and maximizing human skills.
Through intricate research, it has been found that corporate and technology giants have recorded approximately 20% cost reduction and effective utilization of resources after integrating Saviom in the management.
As the operational cost reduces, overall revenue rise has been the main reason behind the success of integrating Saviom. This user-friendly resource management tool comes with light-weight architecture, profound features, scalable, and personalized platform. Saviom is smartly optimized resource allocation tool that saves time, manages data, utilizes resources and leverage productive workforce strategically.
4. About SoftwareWorld
SoftwareWorld helps millions of people find the best business software through its undulated ratings and reviews. We provide vetted and verified reviews on latest software that allows our users to make more informed decisions. We are an inevitable technology indulged in finding solution for business enhancement and effective growth.
Find latest guide to boost productivity and optimize your workflow with software tips, tricks, and trends. SoftwareWorld is a podium that provides convenient comparison of the latest software that you need to set up your business.