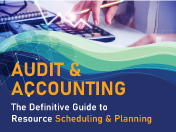 An accounting & audit firm only thrives when its most valuable assets, the human resources, are utilized to their best potential. Resource management, however, cannot be efficient when you are still equipped with your legacy tools. These tools are not built to beat the uncertainties of the 2020s as the organizational structure is more complex and matrixed.
This eBook is a definitive guide that explains the benefits of modern resource scheduling and planning solutions. It includes the following:
What is resource planning?
Benefits of resource scheduling & planning
Best practices of efficient scheduling
Criteria to select the right tool
Useful tips for scheduling
These are the major takeaways and by the end of it, you will not only know the benefits of modern resource management but also know how to select the right tool for your accounting firm.
So what are you waiting for? Download this guide now to scale up your resource planning practices and enhance productivity and profitability.