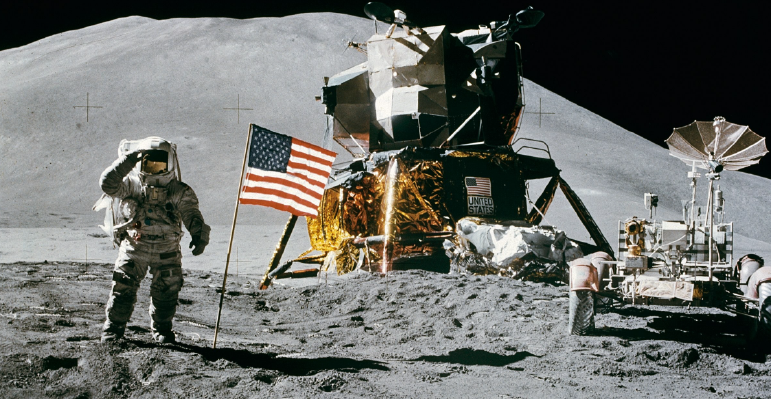 The Project Apollo mission went down in history as one of mankind's biggest technological achievements. Even today, excerpts from interviews and documentaries are widely available on social
media, making it one of the most talked about projects ever to be undertaken.
Dwight Eisenhower's legacy of founding the National Aeronautics and Space Administration (NASA) was furthered by President John F Kennedy's ambition.
On July 16th, 1969, the world watched with trepidation and wonder as astronauts Neil Armstrong, Michael Collins and Buzz Aldrin climbed into the spacecraft, which roared to life for the decade's most awaited moment; to put a man on the moon and land him back safely.
That being said, the Apollo 11 project wasn't without its risks and uncertainties, which made it all the more astounding when images of the first moonwalk surfaced within a few hours of the lunar module landing on the moon's surface.
The project management landscape today has been shaped by several factors, one of them being how successfully previous projects ran, and achieved its mission. Project Apollo is no different, with project and program managers today drawing inspiration from the experiences of their predecessors who sat back in the control room and took split-second decisions as lives hung in the balance.
Let's go into the project management lessons every aspiring project professional can take from this iconic moon landing project!
#1. Apollo project management lessons to remember
While the launch of Russian satellite Sputnik was what spurred the ambition for the Apollo project into action, a lot of research went into the feasibility of the mission. As with any project undertaking, qualifying and quantifying what was at stake was crucial in order to implement what was so far only studied as a science.
It's worth remembering that there weren't project selection methods nor dedicated project management offices at the time. In reality, the mission was managed by 2 authorities – the NASA administrative team that handled the total cost of the Apollo program; and the chief engineers who were responsible for its daily management.
Several manned and unmanned missions were previously sent out to circle the lunar orbit before an actual landing. And here is what the experts recount;
1. Plan ahead
The Apollo project was broken down into 3 phases to simplify the intensity of its planning.
The first phase was carried out just to test material safety, quality and strength, while the deliverable of the second phase was to circle the moon and return. The final phase was when the timing was deemed right to attempt landing Apollo 11.
Given that project planning is all about analyzing the scope, workability, costs, time, data, resources and skills needed to be allocated to the project, the takeaway here is that creating a list of phases and deliverables to be met makes it easier to define priorities, as well as confine the project to 'limits'.
It breaks down tasks into bite-sized chunks, cutting down the number and severity of the risks involved. With information this comprehensive, you can even inject a time-margin for changes likely to be requested later down the line, so that no workload stretches once the project is underway.
2. Centralize processes
One of the PMO roles and responsibilities today is to standardize processes to keep project delivery sustainable. As mentioned earlier, there were no project managers for the project Apollo mission per se, but the project was still successful, demonstrating how technical capabilities can be leveraged from a leadership perspective.
A central body such as a PMO keeps processes repeatable, thereby ensuring no disruption to existing and future workflows. Whether it's set up internally or externally, a dedicated group to man project portfolio performance helps your business benchmark financial, operational and resource metrics.
This way, you can curate a green pipeline strategically rather than roll the dice exploring opportunities and assigning mismatched resources to them down the line.


Read More
What are PMO roles and responsibilities in an organization?
3. Facilitate team decision making skills
Typical of any project, team dynamics and joint efforts are key to project delivery. After all, you need the right hands on deck in the event of a glitch.
In fact, the Apollo project faced its very first error when the spacecraft ran low on fuel, veering 9 miles from the planned landing strip.
The cosmonaut trio encountered an unrecognizable signal on their computer screen which was ultimately found to be a computer data overload. It was the control room back on earth that identified this and restored calm once again.
Empowering a team's decision making ability puts projects back on track, especially when key managerial authority is absent or unavailable in a time crunch.
For one, it brings in different work perspectives, any of which can be the answer to the problem at hand. And for another, it encourages collaboration and skills diversification, enabling project members to help each other get more work completed.


Read More
5 Ways to Improve Collaboration Between Departments
4. Set realistic expectations
Depending on the scale of the project and differing interests from several stakeholders, it's natural that expectations would ride high. But from the point of calling a project successful, a lot hinges on their involvement and awareness of the project's progress.
Take Kennedy and Dr. Robert Gilruth's interactions, for example. While the President was keen on protecting America's national interests, Gilruth was concerned about the resources needed for a project of such a scale and opted to voice his concerns openly.
Consequently, no expense was spared in order to ensure NASA's staff of over 4,00,000 were working with superior quality tools, materials and applications.
Setting realistic expectations begins with keeping the lines of communication open between business and technical project teams, clients and the project body itself.
This way, concerned and relevant members are looped in when milestones are hit (more importantly, when,i.e. in time, early or late)
5. Assess risks
Assessing your risk appetite is key to project health. This includes profiling risks, even the ones that seem improbable and unlikely to even turn into one. Before the Apollo 11 project could commence, there were project risks, the first of which concerned the lunar module being built. It was running behind schedule and was twice deemed overweight to carry, leading to a time-sensitive setback.
Considering the module had a descent (to land the carrier) and ascent (to relaunch the team and carrier back into orbit), there was no question of compromising quality. The engineers relied on
Gantt charts, change control boards and configuration management to manage risks and resolve them before rigorously testing out the final design.
The lesson here is to categorize the type and severity of risks and compare them against performance. Only then can mitigative steps be carried out.
6. Record lessons learned
From a live broadcasting of Neil Armstrong's famous moonwalk to press releases, no part of the Apollo project was left out. From a project team's perspective, however, this extensive coverage is beneficial, especially in times of iterative agility.
Documenting project particulars lets you organize data in a concise and accessible format. What's more, regularizing sprint retrospectives not only helps team members proactively review their work but also lets them record their learning curve.
This way, leaders are aware of the tasks and skills leveraged, enabling a holistic measurement of team, and project performance.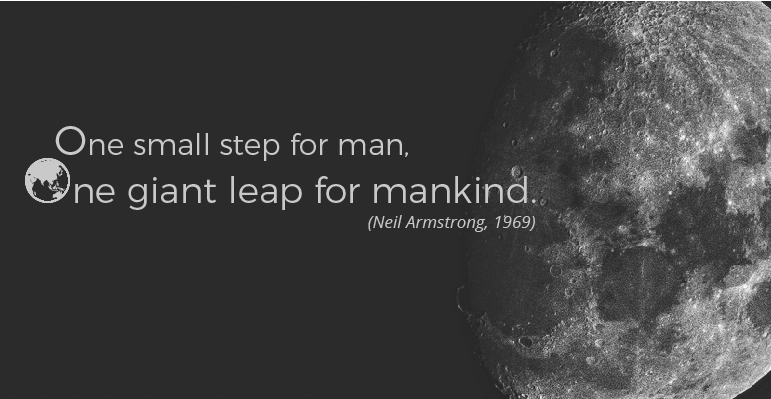 Did the Apollo 11 project's journey spark your interest in project management?

FREE eBook
The Ultimate Guide to an Efficient Resource Management
Download
Namratha Mohan