The extent of non-financial and financial success enjoyed by a business hinges on the quality of its workforce. And every resource in the talent pool thrives on feedback. The happier employees feel at work, the better able they are to meet, and even exceed expectations.
It is well-documented that a 360-degree performance appraisal does a better job of motivating your employees than having to hear constant criticism. After all, would you want to be remembered only when things go wrong and people look for someone to blame?
Employee appraisal is the process initiated by a business to evaluate performances at an individual and enterprise-wide level. Think of it as a report card that scores your abilities on the basis of job function, skills used, experiential prowess, professional conduct and future prospects.
Performance appraisal gives you a chance to correct deficiencies and brings up your staff's strengths, as well as weaknesses. It in turn, lets staff know what they're getting right, and what could be improved and worked on.
When this information is made available at the outset, staff can not only gauge their current position but can also work out ways to add value to business goals in the future. Let us take a closer look at a few modern appraisal methods in active use by employers today!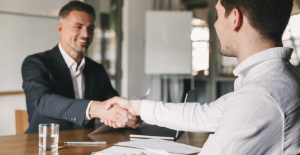 6 Performance Review Methods
As Albert Einstein put it, 'everybody is a genius, but if you judge a fish by its ability to climb a tree, it will live its whole life believing it is stupid.' In other words, there's no one way to measure and appraise your employees. It depends on several factors; from years of association to skills relevance.
Key performance indicators differ from business to business and lets you score performance from both an individual, and a business-wide perspective. An appraisal system not only gives unbiased feedback about an employee but also gives managers workforce data critical to determining employee retention strategies. A few modern appraisal techniques used include;
1. Management by Objectives (MBO)
Once business objectives are set, the next step is to sit your employees down to collectively identify, plan and organize the execution of these goals. Management by objectives (MBO) is the method that gives everyone involved equal access and control on the decisions to be taken. While considered slightly more expensive and time-intensive in the beginning, it focuses on quantifiable actions from which results are easy to interpret, and assess.
2. 360-Degree Feedback
360-degree feedback relies on a combination of peer-reviews, self-assessment and inputs from the project, or functional managers. Contrary to the belief that employees would oversell their abilities on paper, this form of appraisal lets you know how your staff perceive their interactions and performance. This is an appraisal method that also brings out one's objectivity, i.e. how others see work versus how you would see it.
3. Assessment Centre Method
The assessment centre method makes use of a variety of intray exercises and measures employee performance based on who scores the highest. The areas assessed in this system include teamwork, analytical ability, speed, efficiency and level of participation. It not only gives insight into personalities and which traits mesh well, but also encourages competition through group activities and role-play exercises. That being said, this method adversely impacts underperformers and puts them out of the running.
4. Behaviorally Anchored rating scales (Bars)
The Bars method assigns a numerical weighting to behavioral patterns. It qualitatively, and quantitatively checks performance compliance, and sets clear standards for acceptable conduct.
5. Psychological Appraisals
Psychological appraisals help managers determine untapped potential. A qualified counsellor administers a series of interviews, therapy sessions and psychometric tests to identify an employee's strong and weak points.
6. Human-Resource (Cost) Accounting Method
The Human resource (cost) accounting method analyzes an employee's performance by comparing the cost to company (CTC) to the financial benefits an organization has reaped through the efforts of that particular resource. Put simply, it lets managers gauge how invaluable a resource would be in the future and the repercussions of losing that employee. It is beneficial in reducing overheads, especially if it costs more to replace and train a new hire than to reward an existing worker who has cultivated strong ties with coworkers and clients alike.
Now that you know how each method enables managers to receive and give feedback, lets now go to the benefits of regularizing performance reviews.
The benefits of performance reviews
When done right, performance management and appraisal benefits both employers and employees. For one, it gives deeper insights into what line of work is feasible, and sets realistic expectations for everyone involved. And for another, it weeds out undesirable work quality and brings everyone's contributions into a unified scale. The advantages of annual performance reviews are;
1. Better decision-making
Decisions regarding yearly promotions, future incentives and layoffs can be taken based on the reports line managers compile on the teams they lead. It even lets you initiate performance improvement measures to give a second chance to members whose work quality isn't reaching the expected mark.
2. Enhances employee performance
When an employee is aware of the metrics work is gauged on, it lets them play to their strengths while giving deeper insight into the areas they can improve for the future. An employee rewards and recognition program encourages your employees to grow with you, rather than outgrow you.
3. Boosts business growth
A business that conducts regular checks into performance ensures that only the best remain, which improves relations between management and the workforce. A motivated workforce not only bolsters your company's image but also plays a pivotal role in widening the network of clients who do business with you.
4. Creates learning opportunities
With training programs that cater to self-development, your staff work in an environment of continuous learning which not only lets them grow professionally but also places them in roles that they can do full justice to.
5. Optimizes capacity scales
An appraisal system embedded into a resource management tool lets you close skills gaps ahead of time. It lets businesses gauge demand and estimates the quantity and quality of efforts required, thus ensuring your business never runs out of skilled and available resources.
As your business scales in the direction of growth year-on-year, so should the level of competence exhibited by your workforce. And with managers reviewing performance, not only will they know what to look out for, but they can also set a better example when leading and managing teams!

FREE eBook
The Ultimate Guide to an Efficient Resource Management
Download
Namratha Mohan