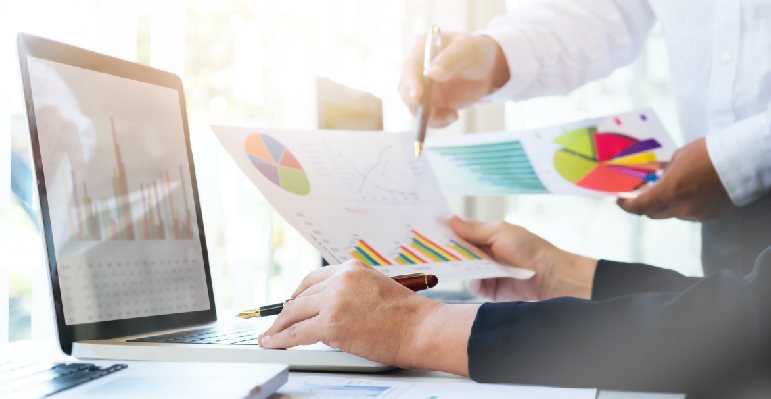 Being a manager means having to juggle a lot on a daily basis. From maintaining the company's bottom line to executing projects and keeping your employees/subordinates happy, you always need to be on alert. With constantly tracking your projects on one hand, and making sure your work is aligned to the company goals, it can become really challenging in the long run. A robust tool can take a heavy burden away from your shoulders, and help you make better decisions.
A project management system can help you maintain the project scope, budget and time while keeping your projects aligned with the company's goals. It ensures that all your projects have a clear vision and objectives. In the project cycle itself, you would also be able to set realistic resource and budget targets and achieve them within the given deadlines. However, the key ingredient for a quality project management process is good data.
The data you look at should help you make key decisions with certainty. Trouble arises when you have data but don't know what to do with it, or where to look for it. It is easy for you to get overwhelmed with the data which flows in from all directions.
In order to plan for your team's and project's future better, you need to analyse the data regularly. Project reports with good data analysis can help you assess emergencies and take action accordingly. Let's take a look at some of the project reports that let you can guide your team and projects better.
Types of project summary reports
1. Project overview reports
These reports give an overview of the project status, which offers clarity on all the aspects of a project. A breakdown of the different activities along with the contribution of resources is a big part of this assessment. Here, you will find a detailed record of billable and business-as-usual activities, along with the contribution of the strategic and tactical utilisation of the resources.
Such a breakdown of activities gives a clear idea of whether you are utilising your resources properly It also gives a rundown on the main backbone of your project- your resources. You can check the utilisation levels based on the working hours and billability. The demand vis-a-vis the capacity assessment for the resources and billable hours helps you modify project targets for the rest of the cycle.
This report is perfect for strategic decision-making with higher management. When planning for the future with C-suite officials of the company, overview reports can be very useful since it leaves you with sufficient time to plan at a high-level.
2. Resource reports
These are targeted towards better productivity of your resources. From an overview of the utilisation level, you can take action when your resources are over-burdened with work and take actions, helping you with better employee engagement.
A detailed assessment of how your resources' skills are being utilised will help you in better performance assessments during future appraisal cycles. You can also help out overburdened resources by redistributing their work.
The demand vs. capacity assessment of each employee gives you a breakdown of the work assigned and completed by each resource against a timeline. This allows you to rectify the exact point where your resources get overburdened.
A customisable timeline on days, months, or years, helps get an accurate representation of the amount of work done by the resource over the time period. Based on the different roles of your project members, the contribution of each role can also come into use.
This will help you understand which resources are using more time to finish their work.
3. Project status reports
A detailed record of the progress made in different project components is important for you to make any decisions. Especially with multiple inflight projects and the associated costs and key skills being leveraged, these reports would help you understand how close you are towards completing your projects.
An unprecedented increase in the utilisation of certain project components would leave an impact on other aspects of the project. A detailed study of the resource and time engagement for each project component helps you plan better for the future.
For example, let's say you have identified that you have exceeded your budgeted utilisation in certain project components. With the help of the report, you can figure out how many resources are working more than planned. You can then take a call to budget more time or resources on those particular components. This will help you avoid overruns in the future.
This also helps you offer clarity for other executives involved in the project, such as resource managers With proper planning, you can align your targets with the project objectives while coordinating with other members of the team.
4. Project portfolio reports
The project portfolio can be crucial to understand priorities when you have multiple resources to handle at the same time. In most cases, you would probably use the same resources for the various projects and clients.
While making a change in the resource utilisation in one of the projects, you might want to consider the impact on the other projects as well. Not to forget, business-as-usual activities and training programs are also considered as a part of them. This is also important to avoid overbooking employees in the long run.
This report also records the timeline for the project activities planned for each client and the resources who are working under them. You can also compare the budgeted and actual time details spent by your resources on each of these activities. With the amount of effort required for the remaining project cycle, you can prioritise your clients and resources accordingly.
An assessment like this helps you offer updates to the upper management on your entire project portfolio. You would also get insights on the projects that require your immediate attention and distribute your resources better across projects.
5. Resource training reports
Most of your staff would be trained in certain skills. And their skills could be complemented by certifications and upgrades. In order to maintain compliances and better project performance across the enterprise, it is necessary that all these certifications are updated on time.
With this report, different training programs and certifications would be detailed for each of the resources. The skill details for each employee is updated and included in this report. You can also track their validity for each of the certifications of the resources.
When the validity of the certifications expires, line managers can get reminders/ alerts to renew certifications, or place new staff in new training programs with immediate effect. For future planning purposes, you can also use this report to exclude resources who do not have valid certifications. You can use the report to figure out the different certifications that your team members want to take up, after discussion.
A detailed evaluation like this improves your resource potential and employee morale in the long run, and also shows that you care. If there any new training sessions which may help them to contribute better in projects, you can consider allocating more training time for such resources.
Executive summary of the project
These different types of project reports are a must-have for any project manager. However, a dynamic method of collation and analysis of the data these reports provide can prove to be even more useful.
Introducing technologically disruptive methods such as business intelligence tools are a good way to get access to these reports. With clear charts and distinct analysis of the various aspects, it will help you communicate better with senior management and team members. And at the end of the day, you can also make changes instantly and get immediate results.
A project portfolio management tool helps get a holistic view of the different projects that you would handle. A tool like Saviom's PPM tool would help you strategise and make modifications to different projects and resources.
Here's a look at the different business intelligence dashboards that are offered as a part of the tool:
1. Resourcing dashboard
2. Project dashboard
3. Project Portfolio Report
4. Resource Training Report
5. Capacity vs. Demand Report
6. People on the bench Report
7. Time detail analysis Report
8. Baseline Report
From better resource management to resolving resource allocation issues, these dashboards are designed to make your life easier.
Do you use portfolio management for managing your projects better? Let us know in the comments below.

FREE eBook
The Ultimate Guide to an Efficient Resource Management
Download
Emon Dastidar