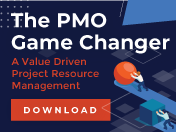 Project resource management has evolved from basic spreadsheets to a value-driven resource management solution. It has become a critical driving factor in enhancing business profitability and sustainability.
This eBook will help you understand how value-driven resource management can help the PMO become a profit centre of your business. It contains the following:
What is a Value-Driven Project Resource Management?
How can Value-Driven Resource Management be a Game Changer for the PMO?
Reduce Overall Project Resource Cost by 10-30 %
Increase Billable and Strategic Utilization by 10-20%
Futureproof Your Workforce Against Market Volatility
Leverage the Skills of Resources Across Matrix Org. Structure
Improve Employee Communication & Productivity
Best practices of Enterprise Resource Management Software
How to Select a Resource Management Software
By the end of this eBook, you will understand how PMO can benefit from value-driven resource management and how to select the right resource management software.

Free eBook
The PMO Game Changer: A Value Driven Project Resource Management
Download