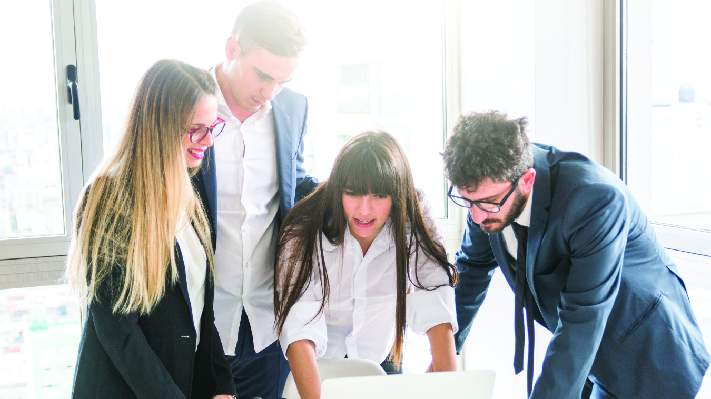 In the vast canvas of resource management, workforce planners need no introduction. Given that people are the drivers of business success (both metaphorically and literally), they know only too well that today's gig workforce isn't entirely immune to the VUCA (Volatility, Uncertainty, Complexity and Ambiguity) environment, a term popularized by the US army in the '90's to describe challenges in combat.
Market volatilities determine the shelf-life of current skills. While hiring right is half the battle won, the other half rests on strategic workforce planning, such that your workforce remains relevant and useful in the future. Your clients would want to know that their projects are in good hands, after all.
Considering the stiff competition for the same competencies, uncertainties around your workforce's staying power can cost you both talent and projects. The first step to attracting the right people for the long haul then, is to map the workforce strategy to your enterprise's overall business strategy.
Effective workforce planning accounts for job changes, reduction in employee costs, advancements at work and role redundancies/ voluntary retirement. It even lets business leaders determine if they have or can obtain the right workforce in time to take on shifting demands.
The fluidity of your workforce strategy and planning program lets you restructure the workforce such that future business needs are met. Given the pace at which the business landscape evolves, you're probably wondering,
1. Why is strategic workforce planning important?
Think about workforce planning as a means to minimise your resource pool costs. While uncertainties are inevitable and occur unexpectedly, anticipating shifts in projects let you acquire the right staff ahead of the curve.
After all, a new hire could be more productive or possess a different knowledge-area that's useful in a secondary field. Once you onboard them, you'll need to track their trajectory internally to determine where their potential can be maximized. The following list narrows it down for you;
A. Create a Future-Ready Workforce Repository
The right size, spend, skills, site and composition together constitute your workforce strategy. It's essential that there is an inventory which records resourcing information in order to narrow down the search for the right quantity and quality of people deployed on the past as well as inflight projects. Not only does it generate accurate effort estimates but also lets you visually assess which primary and secondary skills were optimally utilized.
The repository prioritizes resources who hold updated qualifications while blocking out resources who're scheduled to undergo training. This lets you plan future assignments for your staff with qualifications that are up to the mark.
The shape of the workforce refers to a capacity that stretches to fit newer market-ready expertise without compromising on existing potential. It lets you re-organize your workforce planning process to include adaptive skills while eliminating the outdated ones. Once you receive accurate effort estimates, you can maximize the billing worth against available hours such that resources on ongoing work can be reallocated should signs of over or under-work come up.
A resource-centric repository ensures that you can respond to resource requests raised instantly. What's more, it lets your enterprise absorb the right quantity of the requisite resources and capabilities, whose future availability is plugged into schedules.
B. Bridge gaps between workforce demand and supply
A gig workforce can be accommodated only after comparing headcount and pipelined projects. Predicting the work influx against resource density lets you assess if your capacity should roll up or scale back in line with fluctuating demands. A cost-efficient bridge is to acquire temporary hires such as freelancers and contractors and allocate them niche tasks in order to optimize your full-timer's schedule in constrained projects.
This way, the promised deliverables' quality remains unaltered without the risk of overrunning timelines or resource costs.
Teams comprising of different resourcing contracts cultivate a collaborative environment where minimal orientation is required around new work. The plus point here is that joint efforts give decelerating projects momentum.
Raw numbers generate seamless insights on running projects that are interlinked as well as mutually exclusive. It lets you verify that your workforce is shared optimally between projects by releasing critical resources onto the high-visibility, high-priority ones. It lets you ensure that your resource pool maintains healthy utilization rates all year long by accessing schedules instantly from existing timesheets to rectify imbalances.
Bridging the gap between workforce demand and capacity not only lets you meet short and long-term targets but also prevents skills shortages on upcoming projects. By forecasting the number and type of employees needed, you can restructure your workforce in line with your enterprise's expansion plans. Even as you economize with respect to your team's size, you get to commit the right resources to feasible opportunities.
C. Analyze your workforce spend against ROI
Assessing financial costs associated with the workforce pertains to payroll, training and replacement costs. Given that replacement costs alone consume 50-60% of an employee's annual salary as this SHRM study observed, analyzing people costs within the present investment strategy lets you stay informed of the probability of changing staff-to-cost ratios in the future.
After all, as your workforce advances experientially with newer skills, the benchmark for your expected financial and non-financial returns rises, too.
An intrinsic benefit of factoring in manpower costs within the project budget is that it lets you match resource investments against the project chequebook. Effective workforce planning contains a what-if scenario module that lets you see what future deployments look like.
It integrates timesheets, revenue and cost reports to record how billable hours were consumed on past and ongoing projects.
Further, it lets you see which ones necessitated onboarding more staff or taking excess members off a team. Considering that the supply of technical material, instruction and support varies in line with the quantity of skilled labour, you'll make informed decisions on funding future projects with respect to cost sufficiency, redistribution and justification for additional labour expenses.
Another useful feature of what-if scenarios is that it lets you allocate generic resources with maximum billability and availability, thus increasing your profit margin without overloading any particular person.
D. Develop a competency plan
The effectiveness of strategic workforce planning is boosted with the right competencies in the right places, especially as your business grows. After all, if a new feasible location for global expansion is discovered, you'd want to know that the right skills are available prior to committing to a new opportunity.
The next step is to inspect those areas that are saturated with manpower to avoid releasing surplus resources and their associated relocation costs.
Having an enterprise-wide competency plan in place prevents you from encountering an indefinite resourcing roadblock that arises from unscientific hiring and firing. Lapses in productivity ensue in finding and onboarding a replacement and in the time he/she takes to gain mastery and confidence over the role in question.
An enterprise-wide competency plan is both collaborative and flexible. It essentially performs the dual action of aligning all departments and streamlining individual business processes to create a future-ready skills matrix. Developing a competency plan from the human perspective lets you curate a workforce whose experiential prowess, market-ready knowledge, primary and secondary skills and core capabilities aren't diluted over time.
This approach to workforce modelling not only lets you stay agile as skills relevance fluctuate but also readies your workforce for change.
E. Collaborative knowledge management programs
Knowledge management is an information enabler that lets your workforce successfully execute the business strategy. It's a pointless exercise to go ahead and invest in new technology without training your workforce to use it right, after all.
By exploring appropriate training schemes that let your existing workforce retrain and update themselves, your investment on company orientation programs, ongoing on-the-role support and mentoring start paying dividends.
Involving your workforce from the grassroots level creates a collaborative environment conducive to promoting knowledge sharing among key resources.
The next logical step is to create a pilot knowledge management program that includes business objectives to be accomplished, milestones to be reached, as well as metrics and key performance indicators that measure roles and responsibilities.
This guarantees that the knowledge management portfolio shows demonstrable value in direct proportion to the level of involvement from the workforce. This way, not only do you set realistic goals for project teams but also ensure that they're working on the right tools and processes with the right mindset.
What's more, you'll tie your knowledge management program to areas that your workforce display interest in, which boosts their learning and performance on future endeavours. The benefits here range from quicker response times to optimized workloads throughout the project cycle.
2. What Next?
Saviom Workforce Management is a comprehensive product suite that does the heavy lifting for you when it comes to capturing all these strategies. Give it a shot and re-imagine the future of workforce efficiency today!