Resource availability is critical in driving the success of project planning. When managers have a clear overview of who's available to take up the tasks, they can plan the projects precisely.
To find and allocate the right resource, one must carry out an extensive analysis of the workforce across the enterprise.
This process of analyzing and tracking the adequate resource pool is not as easy as it sounds. To find a way for effective and effortless tracking of resource availability, let's take a deep dive into its concepts.

1. Resource availability and its Importance in Project Planning
Let's begin with addressing the very first question, why is resource availability critical in project management?
Resource availability provides you an overview of resources' schedule and a clear picture of who's available to take up the tasks. A resource can either be partially or fully available and they must be utilized to their full capacity. Based on this information, you can plan and allocate the project tasks in advance avoiding last-minute hiccups.
If project managers do not have insights into who's available for the work, they might overload a resource. In worse case scenarios, they might even risk booking the staff who lack the skills to accomplish the tasks.
Moreover, important parameters like resource demand, resource capacity, skill gaps, and utilization scales are all directly impacted by resource availability.

Here is a brief description of each of these parameters:
Resource demand: Number of resources required to complete a given project. It can only be fulfilled when you have the right number of resources available at your disposal.
Resource capacity: Resource pool who are available in your organization to take up the appropriate project tasks.
Skill gap: The difference between the project demand and capacity is the skill gap.
Optimal utilization scale: The efficient and productive use of resources and their skills constitutes the optimal utilization scales.
When these resource indicators are not managed efficiently, they can put forth certain challenges in project management processes.
Let's take a look,
2. The resource-centric challenges that plague project management
Intelligent resource management drives the success of a given project. Deployment of appropriate, qualified human resources will help you maintain the quality of the project. Lack of efficiency in resource planning can therefore create project hurdles in the future.

These are some of the resource-centric challenges that can negatively impact your project's health.
Lack of centralized visibility
Businesses are now adopting a matrix-based, shared services model. Project managers, therefore, need to have a unified view of the enterprise-wide workforce. It will create transparency with respect to resources and projects both.
When you have a 360-degree view of your workforce and their allocation, you are aware of everyone's availability. This will reduce the project scheduling conflicts and eliminate the risk of over or underutilization of resources. Besides this, it will also add the edge of accuracy to your project plans. The lack of visibility, on the other hand, can spiral down your project life cycle.
Inability to update skills in real-time
The ongoing market volatility demand updated skills inventory. Simply put, employees should be able to upgrade their knowledge based on dynamic market trends. This will help them keep their expertise relevant down the line. At the same time, managers should be aware of these added skills to make the most of it.
However, some organizations are still using spreadsheets to maintain their data inventory. The challenge here is that these spreadsheets are not updated for months and eventually the database just becomes outdated. Managers need to scale up their systems and equip a smarter one where the skills can be updated in real-time. By doing so, you will have clarity on everyone's expertise and will be able to allocate tasks at ease.

Misalignment in project and resource calendars
Employees prefer to have the flexibility to plan around their schedules and time off work. However, the deadlines and their leave dates can clash for two reasons. When the resource calendars are not updated in real-time and managers do not have a unified view of their leaves. This situation can lead to discrepancies and chaos.
Overall, with a lack of visual stimulus to project and resource calendars, the project's health and quality will suffer. Moreover, employees will not feel motivated or productive to work when the goals and deadlines aren't defined. It is therefore important for project managers to define the timelines and schedule the tasks on a unified Gantt chart.
Impact of increasing resource costs on profit
Resource costs are a major deciding factor in overall revenue. If the resource costs go beyond a permissible limit, the profit margin will be affected and reduce profitability. The onus is on managers to ensure that they do not surpass the resource cost limit. This will help them control the project's financials.
What factors can impact resource costs?
First of all, ad hoc allocations to complete highly specialized tasks can cost you more than your budget. Secondly, improper capacity planning leads to mismatched skillset as well as last-minute hiring of expensive resources. This will reduce your project's profits. To eliminate these extra costs, project managers must proactively plan their projects well in advance.

Project managers competing for the same resource
Even though matrix organization has a plethora of benefits, there can be downsides too. For instance, multiple projects can require the same niche skill for a similar duration. In this case, internal conflicts may arise between two project managers competing for the same resource.
To keep these predicaments from hampering your project's progress, it all boils down to having an intuitive system. It will provide you real-time insights into project allocations and resources' schedules. In addition, a project manager will know if a resource is already booked by another project manager on a billable project. This will keep the discrepancies at bay.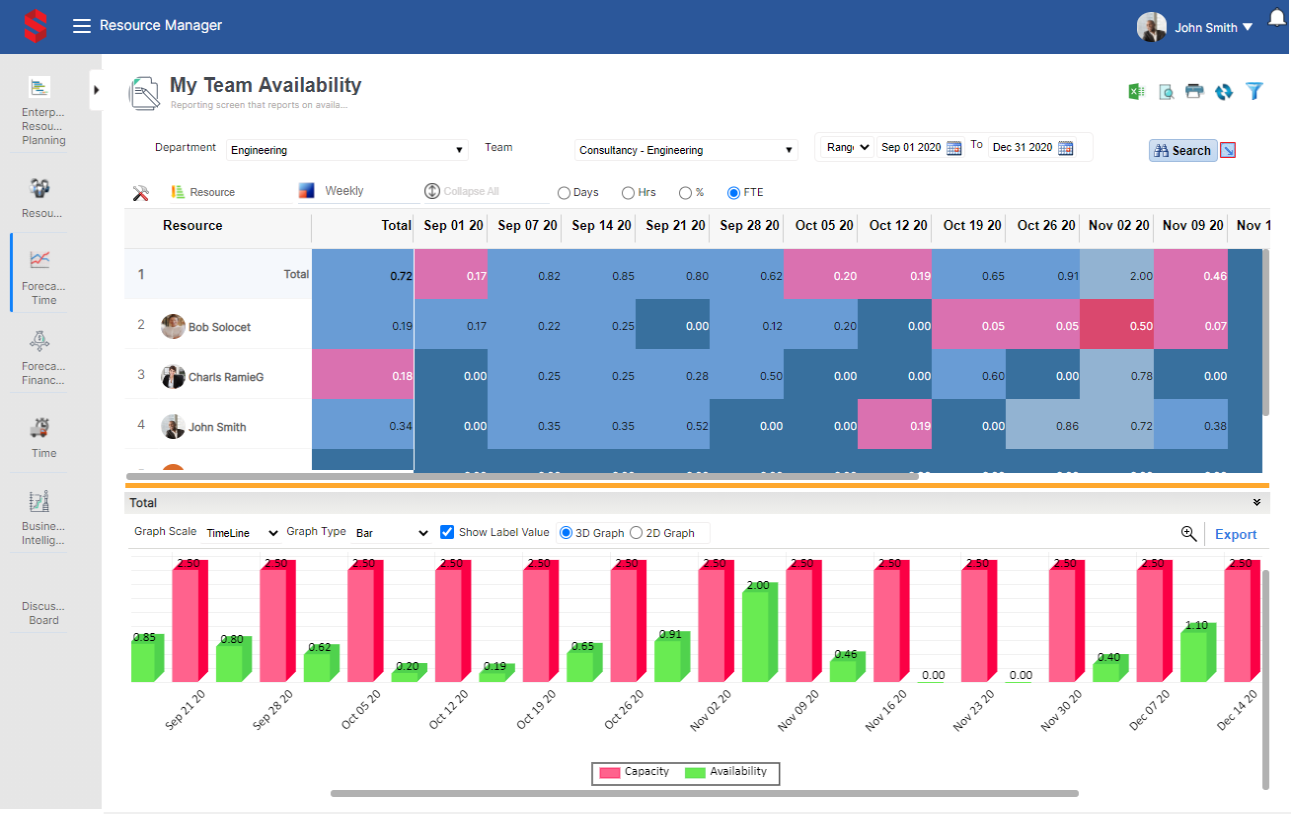 3. Best Practices of Resource allocation in project management
Certain best practices for resource allocation can be the gateway to the project's success. A resource availability matrix (like a Gantt chart) that is visually communicative will help you formulate a full-proof project plan.
Resource allocation must mature from being managed on disparate spreadsheets to an advanced intuitive system.
All the resource attributes like costs, time, location, skills, and delivery capacities will then be considered well within the planning phase.
A system can streamline allocation and lead to a successful project delivery when it serves two major criteria. If it can draw out crucial details in real-time and provide managers with data-driven insights into resource KPIs.

4. Conclusion
Resource availability is a lot more than just one parameter that can be taken for granted. The resource-centric challenges mentioned above explain how resource availability, when not matched with the resource demand, can cause project bottlenecks. Project managers must now look at resource availability thoroughly to deliver the project within budget and time.
How have you managed resource availability so far?
5. The Glossary

6. Saviom Solution
SAVIOM is the market leader in providing an Enterprise Resource Capacity Planning solution. With over 20 years of experience as a market leader, Saviom is actively used by many highly-esteemed global companies. Some of the components of the tool include enterprise resource management, professional service automation, and workforce planning software.

FREE eBook
The Ultimate Guide to an Efficient Resource Management
Download
Anuradha Mansinghka