We've all heard the words "project" and " project management"  to last us a lifetime. Whilst the focus on project management is quite technical (project managers, anyone?), little do we realise how extensively we end up using it in our daily lives.
Indeed,  projects apply to homes, schools and for those of you who are fans of horror movies- the Blair Witch Project!
Let's look at some situations that channel your inner project manager!
What is a Project?
Projects are time-controlled activities undertaken to produce a certain outcome. There are many parallels running between personal and professional projects.
For one, they both are subject to the triple constraint of time, money and scope. We end projects earlier than anticipated if any or all of the triple constraints are enforced. They are initiated and fool-proofed with a plan.
A project is closed if it has produced the desired result or effect. But, as every project manager knows, a plan B needs to be in place to secure project strategy.
Without further ado, here are some real-life situations that inevitably bring out your project management skills.
 1. Going on vacation
Vacationing, however brief, becomes more of a micro project than a fun-filled activity which brings out the triple constraint of time, costs and scope. They would need to be planned well ahead of time in order to provide value for money.
A hassle free vacation factors in risks and ways to overcome them. A thorough research about the destination is very important during the planning phase. The information obtained from several online and offline sources can be more readable by compiling it as a to-do list similar to the work breakdown structure employed within projects.
The list of activities and places of interest to be visited can be entered here to match costs against planned tasks.
Planning your vacation methodically not only eliminates the chances of overrunning budget but also ensures that your holiday is well spent!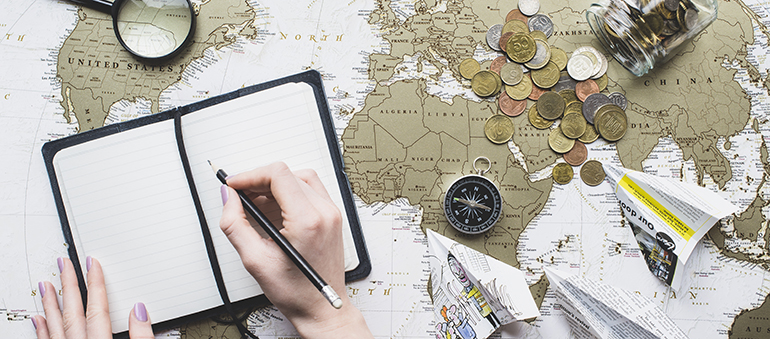 2. Planning  a party
Throwing a party for your best friend or colleague at work would require a plan to be initiated in advance. Different stakeholders would need to be roped in to carry out activities such as booking the venue, catering and entertainment.
You'd then need to actively communicate with them to confirm their participation and involve them in the decision-making process which would determine if the party can successfully remain under budget and within capacity.
Project management is just as much about people as it is about projects. People management is crucial for project managers to keep track of the activities resources are engaged in whilst monitoring their utilisation levels!
3. Shopping for amenities
Even the best of us falter when it comes to planned shopping. . At some point, we've all ended up with shopping carts full of unnecessary purchases.
When you're expected to host visitors, however, shopping instantly turns into a project that needs to be completed on time. For one, the meals to be cooked need to account for individual taste buds in order to tweak recipes. The place would need to be inviting and spotless, which would require pulling in different stakeholders to clean, arrange and turn the house into a home!
Controlling the spend over these purchases is similar to scope management, where the deliverables need to be handed within budget and purchased ahead of time for the project to be considered successful. A time constraint enforces that the plan is adhered to without deviating from the goal.
4. Starting a hobby
We all have a hobby, be it one that has interested us from childhood or became a recent fascination. Cultivating a hobby requires commitment and genuine investment, as it can scale up in  terms of personal time and efforts required to be put in.
Such is the dedication expected within professional projects which require niche skills. Projects can only go as far as the resources sitting within them, which is why a skills inventory listing skills against years helps identify the strengths and weaknesses of resources. In the professional sense, this ensures that suitably qualified resources are actively engaged.
But the same concept can be applied to ease into a hobby too, especially if it aligns with both personal interest and the desire to acquire experience honing a particular craft.
The next time you pick up a hobby, take comfort in knowing that your organisational skills are about to rival that of a project manager!
Let us know which situation brought out the project manager in you! If you enjoyed this,you're sure to love meeting a few superheroes we've covered in this post.

FREE eBook
The Definitive Guide for Resource Planning and Forecasting
Download
Namratha Mohan