Resources are one of the most high-priced investments for a firm. With market volatility causing constraints of skilled resources, it's imperative to undergo resource planning and utilize the workforce to their maximum potential.
Efficient resource management includes smart resource planning, appropriate scheduling, and ensuring employee engagement and satisfaction levels for a healthy business environment.
When resource managers follow the best resource management and planning practices, it will enhance productivity, project performance, and profitability. However, if they take a shortcut and do not make a timely decision, it will adversely affect the organization's business objective.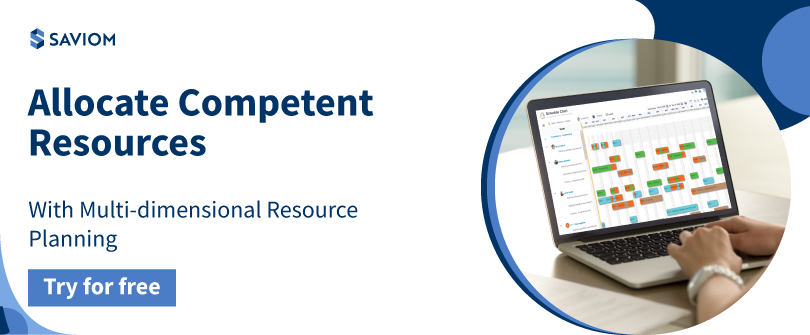 In this article, we explain the basic concepts of resource planning and its importance in resource management in detail. Let's deep dive into it.
1. Resource Planning Definition
Resource Planning is a process of identifying, forecasting, and allocating various types of business resources to the projects at the right time and cost. It also ensures the efficient and effective utilization of resources across the enterprise. These business resources can be human resources, equipment, assets, facilities, and more.
In other words, it's the process of strategic planning to make the best use of resources depending on their capacity and availability by following a systematic process.
So, how do you achieve this?
Let's take an example, your firm is an IT company and you got a software development project which is in the pipeline received from a global client for a long-term horizon.
Here, project managers will look after the client's requirements, assess the scope of the project, and will also predict and evaluate the resource demand. As a part of the process, they will request resources from resource managers to fulfill this demand.
The resource managers will now assess the new requirement, find out the gap between the demand and the available workforce, and look for different ways to fill this gap. This will include either hiring new workforce from the market or juggling resources that are available within the organization.
The ability to forecast requirements and develop a strategy to plan, allocate, and utilize the resources and their competencies effectively is termed resource planning.
Keeping this definition of resource planning in mind, let's understand its benefits in detail.

2. Why is resource planning important?
Resource planning is a crucial part of the project management process as it plays a key role in a project's success.
Here is a list of the benefits and how it makes a difference in the project management landscape:
Allows project resource planning for pipeline projects
Creating more projects in the pipeline is desirable, but not having enough resources to execute them causes project bottlenecks, delays in meeting deadlines, and impacts the quality. An intelligent resource plan and timely forecasting help managers predict all resource needs for pipeline projects in advance.
Resource managers can either allocate a cost-effective global resource or hire an on-demand/permanent workforce with the right skillset. It eliminates last-minute hiring costs incurred by the firm.
Bridge the capacity gap proactively
Demand forecasting, one of the major pillars of resource planning, identifies the excess or shortage of resources by comparing the resource demand against the existing capacity. Based on this data, managers can implement the right resourcing treatments to bridge the capacity and demand gap.

CASE I: Excess of resources
When the resource demand is less than the available capacity it results in excess of resources. This excess capacity can be mitigated by bringing future project work ahead, adjusting timelines, redeployment of resource capacity in other projects, etc.
CASE II: Shortfall of resources
When the resource demand is higher than the capacity, there is a shortage of resources. It can be resolved by exploring two different resourcing channels.
Internal Channels:
Internal recruitment focuses on the employees who are already on the payroll of a firm such as, selecting an employee from the bench based on the skills and qualifications or transfer of resources from different projects.
External Channels:
In case the required skill is absent in the internal network of the organization then the resource managers hire the resources from external sources. It includes hiring resources through recommendations/networks and recruiting freelance/contingent workforce from partner vendors.

Minimize project resource costs significantly
An effective resource plan helps managers to make data-driven decisions and implement the right resourcing measures at the right time. For one, they can allocate a cost-effective global/local resource or a benched resource to a task.
For two, they have enough lead time to conduct planned hiring in place of last-minute activities and create the right resource mix that suits the project budget.
Maximize profitable resource utilization
Resource scheduler lets managers view the resource's present and future allocations on one single platform. They can also have a periodic check on forecast vs actual resource utilization report and optimize under and over usage of resources.
Moreover, managers can mobilize them from non-billable to billable and strategic projects based on their skillset.

Ensures Competent resource allocation across a matrix organization
The resource scheduler provides a centralized view of all resource-related information such as skill sets, cost rate, location, resource capacity, among others. Through this visibility, managers can filter and load the appropriate resource to the project's task.
The systematic resource requesting process helps managers to leverage the shared service model of a matrix organization. This ascertains competent resource allocation in projects and also allow resources to work on different assignments.
Deliver project on time and within budget
The benchmark for successful delivery is meeting project deadlines and avoiding budget overruns. Resource plan helps managers periodically review project performance using forecast vs actual reports, resource utilization heatmap, and more.
Regular monitoring will ultimately lead to the accomplishment of the most important project metrics such as client-satisfaction, higher retention, enhanced work rate, and increased brand loyalty.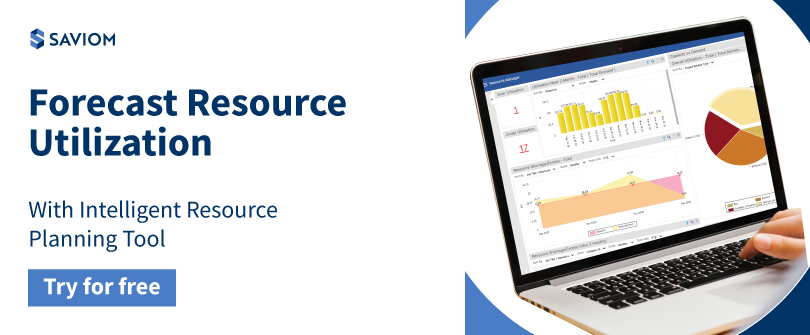 3. How Efficient Resource Planning Process Improves Project Success?
Achieving project goals within the constraints of time and budget is one of the biggest challenges for project managers. It is expected to make the best use of resources without causing budget overruns.
Here are four distinct steps by which managers can create an efficient resource plan:
Step 1: Fulfill the project demand by identifying the gap
The project manager requests resources from the resource managers to fulfill the demand of the project. Resource managers then assess the demand and capacity gap.
Based on the analysis they identify the shortage or excess of resources from multiple perspectives i.e., role, skills, etc ahead of time.
Step 2: Implement appropriate resource strategies to bridge the gap
After identifying the shortage and excess of resources, proactive implementation of resourcing measures bridges the skills and demand gap. With the help of the Gantt chart view in the scheduling tool, the resource manager can get a 360-degree view that can help in informed decision-making.
Step 3: Allocate the right resources to the right project
Using a combination of unified view and advanced filters, the resource scheduling tool enables managers to allocate the right skilled workforce to the right project based on their availability.

Step 4: Consider factors that affect resourcing strategies
To effectively carry out the allocation of appropriately skilled resources to the project, managers need to consider the following factors:
Long-term/short-term assignment
The foremost step to consider while recruiting resources is whether you are filling a position for a short-term or long-term assignment.
For the short-term, contingent workforce/freelancers are the ideal choices to avoid hiring/firing cycles. However, for a long-term assignment, focusing on permanent hiring with lead time is essential.
Hiring resources with a niche skill requires additional lead time. At the same time, it becomes difficult to redeploy them within the organization once their assignment finishes.
They also cost more depending on the scarcity of the skillset. On the contrary, it is relatively easy to plan for generic skilled resources.
It is important that the resource managers hire the right resources with a defined skill set and experience for the project. But it is also important to look into the cost rate of the resource that fits the budget of the company and projects.
Hence, managers should also factor Onsite, offshore, near-shore options in the recruitment strategy to minimize the overall project cost.
Attrition & succession planning
An intelligent resource plan not only addresses the resourcing needs of the organization but also helps you monitor the resource health index.
Resource managers also need to ensure that the sudden resignation of critical resources does not jeopardize a project's delivery. Succession planning including a backup strategy is essential for the key positions within the organization.

4. Consequences of Poor Resource Planning
Getting a new business is important for any enterprise. But the delivery organization must be in a position to complete the underlying projects using the existing workforce infrastructure.
A suboptimal planning process can adversely impact your project's progress and eventually reduce profitability.
Here's more information on the consequences of poor resource plan methods.
Improper resource allocations
The use of legacy tools or silos of spreadsheets results in poor visibility of resources. Discrepancy and redundancy in spreadsheets caused by human error can lead to double bookings of resources. It will cause overutilization and eventually result in employee burnout and project failure.
Inability forward plan pipeline project
Not being able to predict and plan resource capacity ahead of time to meet the future project demand can put projects at risk. Last-minute planning brings several roadblocks to pipeline projects.
It results in poor visibility of project demand resources, hiring of inferior quality of resources, improper allocation of workload, etc. All these factors will have a cascading effect on project costs and timelines.

Lack of profitable resource utilization
Inability to use and mobilize resource pool into billable and strategic projects reduces profitable resource utilization. At the same time, employees will be disengaged when their skillset is not exploited for productive work and is instead being wasted on mundane admin tasks.
Suboptimal utilization of resources will lead to loss of revenue, project delay, and a decrease in employee satisfaction.
Project failure due to improper allocation
Incompetent resource allocation i.e. booking of high-cost resources in place of low-cost similar skilled resources results in budget spikes of project. At the same time, allocating a less-experienced resource to a highly specialized task will prolong the timeline.
This financial escalation and schedule overruns if not controlled on time will gradually result in project failure.
Decreased productivity & business loss
Scheduling the resources against the employee interests and skills, unrealistic deadlines, overutilization all result in decreased productivity.
When employees are not performing at their best, it will reflect in the project's performance which will fail to meet the client's expectations. This will lead to loss of business.
5. How Resource Planning Benefits Different Industries
Resources are fundamentally the greatest asset of any organization. It means the profitability of any company is mainly reliant on intelligent resource planning. A key aspect in resource planning is that it helps to efficiently use workforce potential to get the best possible outcome.
Let us discuss some of the specific industries where efficient resource planning could benefit significantly:
1. IT Industry
Due to the rapid advancement in technology, computing, and automation, IT companies face widened tech skills gaps within their workforce. Technology is changing at a fast pace, and IT professionals are under constant pressure to acquire new skills throughout their professional careers. Timely forecasting and efficient resource planning will help managers predict the demand for niche skill sets well in advance. Then managers can imply out rotation/upskilling methods to gauge these gaps and create an augmented workforce.
2. Audit and Accounting Firm
Most of the audit and accounting firms are run by their partners. These firms consider billable utilization as a critical KPI to ensure profitability and sustainability. So, depending on the accounting project needs, an effective resource planning solution helps to forecast resource requirements (Accountants, auditors, financial analysts, tax consultants, audit interns, etc.) and utilize them for productive activities. It also enables firms to hire interns on a regular basis, give them on-the-job training and make them billable.
3. Law Firms
Similar to audit and accounting firms, law firms are also run by their partners. Bringing in a client when the firm has inadequate staffing can be detrimental to its reputation and profitability. An effective forecasting and resource planning strategy helps assess future demands and find the right resource (lawyers, legal secretaries, etc.) at the right cost, age demographics, etc. It also enables partners to build an on-demand workforce, create a skill database, and define the total billable hours.
4. Engineering Industry
The increased demand in manufacturing activities has caused skill shortages in the core engineering industry, where competition is fierce for experienced workers (automobile engineers, machinists, designers, etc.). An engineering resource planning solution helps managers to provide reskilling and on-the-job learning opportunities for the employees. Thus, it helps to replenish an aging workforce, fill key positions and match them to the best potential projects based on talents and interests.

5. Construction Industry
Construction and infrastructure projects possess highly volatile resource demand due to changing climatic conditions and sudden increases in maintenance activities. With resource planning solutions, managers gain visibility of all construction resources and recruit skilled labor, architects, civil engineers, etc., throughout the projects. Thus, it maximizes the productive utilization of the workforce and ensures that resource conflicts are minimal. Therefore, efficient resource planning is a key to manage construction resources effectively, preventing hiring/firing costs.
6. Consulting & Professional Service Industry
The professional service industry has a unique challenge to balance resource demands across a wide variety of clients. With efficient resource planning, managers can keep track of resources and their specialized skills. Since the consultants are deployed at a premium rate, it is crucial to keep them engaged in client billable activities and reduce idle time for maximum profitability. At the same time, they need to be provided enough opportunities to acquire new skills and ensure no employee burnout.
7. Video Game Industry
The game development industry requires a highly competent team of niche-skilled resources. Efficient resource planning enables managers to diversify their expertise to the maximum potential and fulfill the gaming project resource demand. It also helps to identify in-demand skills and cross-train them to build an optimized workforce of game designers, level artists, programmers, QA teams, etc. Thus, effective resource planning can become a game-changer in fast-tracking the development cycle.

6. The Solution: A Strategic Resource Planning
Resource planning is a systematic process to utilize resource skills to the maximum potential. The above-mentioned components and processes will help you acquire the right resource and ensure the quality of the project.
Equipping the right tool to plan the resource efficiently and intelligently will help you enhance profitability and maintain the competitive edge.
An efficient resource plan fosters you to accomplish more in the same amount of time from the most valuable resources- the people.
Unlock your Business Full Potential Through Strategic Resource Planning Today!
7. The Glossary

8. The Saviom Solution
SAVIOM is the market leader in offering the most powerful and configurable solution for managing your enterprise resources effectively and efficiently. With over 20 years of experience, this Australian-based MNC has created its global presence across 50 countries and helped more than 100 customers achieve their business goals. SAVIOM also has products for project portfolio management, professional service automation, and workforce planning software that is customizable as per business requirements.

FREE eBook
The Ultimate Guide to an Efficient Resource Management
Download
Somya Yesodharan & Anuradha Mansinghka