As any project manager would concede, change is inevitable. The rate at which change advances, however, is not something every organisation is prepared for from the start. When it does hit them, projects, programs and plans all get thwarted. What follows next is a complete rework from the grassroots level upwards that may not necessarily be the right way forward.
To prevent being blindsided frequently, most businesses set up an Enterprise Project Management Office (EPMO) at a level above several project management offices (PMO). Having a centralised body to monitor and benchmark performance against a number of checkpoints allow companies to remain informed and ready to embrace change.
To understand what is involved in setting up an EPMO, let's take a look at its structure and framework.
What is EPMO?
The EPMO is a centralised business function which ensures there's a strategic alignment between business objectives and projects executed. Organisations with a global presence feel the impact of non-uniformity the most, especially where technologies and processes differ regionally.
The right information is key to implementing an initiative, governing how efficient an organisation can be in terms of cost, performance, and project success.The purpose of setting up an EPMO is to record, analyse and present information to senior leadership that allows them to see if a program's roadmap tests well. It is the strategic arm of decision making that informs resources of how value is created across the enterprise.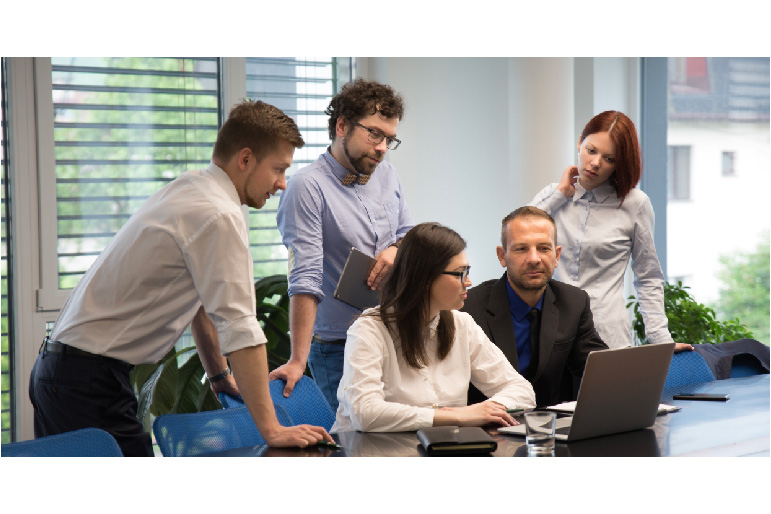 Structuring The EPMO Framework
A framework defines the boundaries of EPMO. It is key to do this in the beginning in order to manage expectations. EPMO managers can get started by identifying the skills gap between technical and business management. The communication flow between several stakeholders must be fluid to promote transparency.
The EPMO framework is designed to enhance reporting capabilities, prioritise projects, and sign off on the best practices and training in order to define organisational roles. The components forming the core of the EPMO framework are –
1. Leadership
:  Buy-in to a new strategy is critical when setting up the EPMO. The support lent by senior leaders convinces departmental heads to overcome their hesitations. Further, managers can present their case with the scientific evaluation of previous work to justify the move to an enterprise-wide approach.
 2. Strategic goal alignment: Allocating resources to the right priorities ease the workload by ranking skills in order of utilisation. This allows resources to work on the right tasks without being stretched and meet the overall objective faster.
3. Positioning
: Where the office is being set up is just as important as the functions it is expected to execute. Starting from the top where the C-suite professionals sit, the authority can be relegated to the appropriate people to influence departmental project management offices.
4. Value addition

:

The expenditure on projects can be justified by the value brought out through the outcomes achieved. Departments cannot help having a blinkered view when it comes to their projects and would want to secure adequate funding. Funds can easily be mismanaged if EPMO managers fail to see the project's feasibility. As a result of trying to cut back, firms would be forced to overlook potential .

 5. Information Management and Reporting: Portfolio successes can be tracked through periodic audits to ensure quality assurance and compliance. Dashboards provide a centralised view of reports from which senior leaders can retrieve powerful insights.

Incorporating these elements would prevent offices located worldwide from overlapping. Enterprise-wide utilisation of resources invites greater support during project execution and leads to the strategic alignment of projects with the short and long-term enterprise business objectives.
EPMO versus PMO
Traditionally, the Project Management Office focuses solely on the technical aspects of project management. This points to the skills, certifications and training sessions held by different resources working on them and the order of priority for the individual components of the project. The EPMO accounts for the overall value brought by the project in addition to the project's ability to be delivered on time and within budget and scope.
According to PMI(2017), out of 81% of the firms that house a PMO, over half of them also have a strategically positioned EPMO. Such companies report being able to complete 38% of their projects after aligning them to strategic goals.
Setting the Stage for EPMO
In order to justify the need for EPMO, the benefits of a fit-for-purpose set of services have to be explained and presented with facts and results to senior management, which means that the organisational structure requires definition. Secondly, the setup has to be positioned such that any pain points can be communicated for immediate resolution.
Portfolios typically contain information on several projects varying in complexity and deliverables. They have to be presented factually to invite interest at the executive level, thus promoting transparency on interrelated programs and projects.
The business case for change would contain the template for standardising tools, technology, project cost and skills required. The design has to incorporate stress tests to check if the solutions conceived are compatible with the internal architecture of the organisation.
It is worth noting that the driving force behind strategic alignment and prioritisation is resource inventory. It is essential to capture current and future skills need to have the right people working on the right priorities.
An Enterprise Resource Management solution helps bridge the gap between resources and projects. If this article has gotten you wondering how to do this yourself, take our robust resource planner out for a test drive!

FREE eBook
The Definitive Guide for Resource Planning and Forecasting
Download