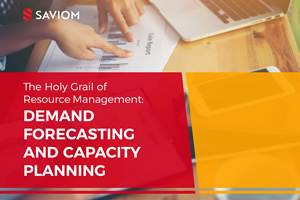 Here's an exclusive excerpt from the newly released eBook by Saviom – 'The Holy Grail of Resource Management: Demand Forecasting and Capacity Planning'.
You can download it here for free.
Research sponsored by the Project Management Institute (PMI) shows that talent deficiencies significantly hamper 40% of strategy implementation efforts.
So, hiring, developing, and retaining the people needed to turn corporate strategy into reality is of critical importance.
The key to successful resource management lies in accurate demand forecasting. Get it wrong, and you'll have unhappy, unproductive or over-utilized employees. This poses a real risk to your organization's overall profitability. But get it right, and you'll enjoy resource stability and sustainable profitability.
Demand Forecasting and Capacity Planning are inter-linked and depend on each other to give you the right insight. Understanding the relationship that they share with each other, is critical to getting the balance right.
Business demand and supply ratios are volatile. Let's say you work for an engineering firm and have a huge project in the pipeline. You have worked out that the project will require 250 engineers with varying degrees of experience. You expect the project to take 9 months to complete. This is demand forecasting.
Now that you know what is required, you can assess whether your current team can handle the project. You may find that you need to hire new employees, retrain existing ones or bring in contractors. This is capacity planning.
So basically, Demand Forecasting is the process of understanding the nature of upcoming projects while Capacity Planning is the process of determining and preparing a team to meet these demands.
This eBook aims at creating awareness among organizations on how Capacity Planning and Demand Forecasting can together build a foundation for your Resource Management strategy. Besides, Resource Management is a methodology that generates and works with scientific precision, thereby mitigating the risks that speculation generates.
Master Demand Forecasting and Capacity Planning among other aspects of Resource Management by simply downloading our free eBook right here!