Imagine investing a lot of time and effort into a project only to pause or kill it altogether due to constraint overruns. The first thought that strikes you is, "I wish I saw that coming." To avoid this, it's important to stay ahead and be aware of the risks involved. Demand forecasting is the remedy to such unfortunate situations. It gives you an accurate estimation of the risks involved, gives clarity on surplus or shortfall of resources, and helps you bridge the gaps between the demand and capacity.
Kudos to the technological advancements, there are several tools available that perform forecasting analytics, specifically one that takes workforce data into account. Besides estimating project costs, revenues, etc. it also gives a complete idea about the risks associated with the project such as unplanned leaves, for which you will have a backup in place. This way, you can prepare well ahead of time to mitigate such risks. To be forewarned, a tool should meet certain criteria. Let's have a look at these:

1. Demand v/s capacity
Demand means a project's requirement of resources, and capacity is the actual capacity of present resources in the organization. Often, organizations face challenges when it comes to closing the gap between the project's demand and capacity. This is because of the inaccuracy in demand analysis. Moreover, incomplete visibility of resources and their availability leads to inefficient capacity planning.
To bridge the gap between demand and capacity, one has to have an idea about the availability of resources down the line. This feature is imperative for pipeline projects as it lets you know about the shortage and surplus of resources ahead of time using forecasting and capacity planning. Besides this, it also keeps your resources well informed about their future allocation which helps them plan absences and execution of present tasks accordingly. Also, they are not caught off-guard with changing requirements at the 11th hour. This is only possible when you stay ahead of time and plan the project. To achieve this, you can forecast capacity viz a viz demand using a tool that helps you foresee it using multiple perspectives i.e. by role, department, team, skills, location, etc.
2. Integrability and configurability
The integration of data is important so that you can view the data you require without wasting a second. For example, you need a resource with a certain competency for your project. You will need complete visibility of these resources and their availability on one page. Obtaining this via traditional methods is time-consuming as it will require you to contact different department heads, they will contact the concerned team leader and the cycle goes on and on.
In order to make it simpler, the integration of data of resources from different locations is very important. Besides giving you visibility to required data in no-time, it also integrates seamlessly with different software solutions giving you complete visibility.
Configurability is just as important as integrability, given that the best person who would know the ins and outs of your enterprise, is you. The parameters should not only be ones that concerned stakeholders frequently look at, but should also capture workforce activities across multiple perspectives. A rigid non-customizable view will not be so user-friendly as it will not sync with the parameters or job titles you use. That's when a highly configurable tool comes into the picture. The architecture of the tool lets you customize the parameters making it convenient for your organization to view the data as per your set standards enhancing the users' experience.
3. Historical data
Experience is the best teacher! The expertise of the stakeholders with previous projects helps you learn from the mistakes that were made and also gives an idea about the best course of action. The project managers have to keep track of these previous projects and the challenges and risks that came along. This is to avoid similar things from happening in future projects. However, it's easier said than done. Maintaining a repository of these projects using conventional methods like spreadsheets can be nightmarishly tedious, and it's not always possible to reach the stakeholders associated with similar projects as they may already be buried with work, in other meetings or may have even left the organization.
Instead, relying on an interactive tool to do the analysis of the previous works will help you get a comprehensive overview of the actions that did, and didn't work. It helps in taking strategic decisions based on history and also gives you an idea of constraints that you might face if you take a wrong turn.
It keeps you well informed of the associated risks and helps you mitigate against them which will also invite projects with definite deliverables.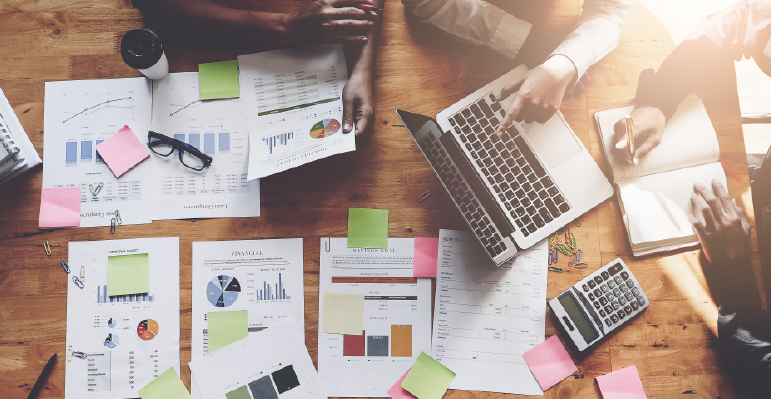 4. What-if analysis
Every manager wants to rule out all the possibilities and outcomes when streamlining project tasks. For example, what if the resource plans a leave, how will you fill the gap? What if there is a cost overrun? and whatnot! These are really important to be addressed to be well-prepared. However, to err is human. It's likely that we might miss out on something or make incorrect estimations.
Instead of brainstorming for hours, how convenient will it be to analyze multiple variants by one tap? A demand forecasting tool that performs what-if analysis will help you gauge the predictions and outcomes if one variable is modified. For example, it gives you a complete overview of cost overruns, revenues, capacity, etc. if the timeline is modified. This analysis strengthens forecasting and covers every aspect. Moreover, you can unlock the information in minutes on which you would spend hours. It is a plan before the plan!
5. Multi-dimensional analytics
When planning for a pipeline project, a project manager has to consider every aspect to make an informed decision. However, if he/she resorts to traditional ways of accessing information from excel or any other sheets, it will take months to plan the project. Even then, there might be some details missing.
With changing business requirements, reliance on traditional ways to streamline a detailed project plan is not feasible. A tool that can generate multidimensional reports will let you slice and dice the data as you please and also lets you drill down to individual elements of interest.
This enhances the forecasting analytics by advancing the granularity level which aids in making sound decisions when planning a pipeline project or exploring prospective opportunities.
So, a tool that meets these criteria helps you apply appropriate resource treatments to enhance the project capacity planning. It provides you complete visibility of resources that tell you if you need to hire or retrain the resources or restructure the team. Once you know the future schedule of your resources, you can increase the profitability of your business overall. You can shift resources assigned to non-billable or low-priority work to billable projects. This move boosts a project's financial returns while optimizing the utilization of resources across the resource pool. Moreover, you can take corrective actions and control projects by keeping a track of financial indicators like costs, revenues, profits, etc. thus, minimizing the possibility of project overheads.
Saviom provides a demand forecasting tool that meets this criterion and comes with many more features where it provides different reports like forecast v/s actual reports that give an insight into every project detail. Experience efficiency with a free trial before believing our words. After all, we believe what we see!