If you think timesheets can pull you through the harrowing ordeals of scheduling management, think again! As the significance of strategic team scheduling continues to grow, the need to implement employee scheduling software will optimize a win-win situation for both management and teams alike.
To date, businesses have implemented various scheduling methods, right from manually filled excel sheets to smart software like timesheets and biometrics. These systems have only proved workable to record staff attendance but fail to impact various touchpoints of an operation like productivity, costs, employee satisfaction, and retention. At the end of the day, it's about lowering internal costs and maximizing your profit. Let's take a closer look at what some challenges your organization would face sans scheduling software: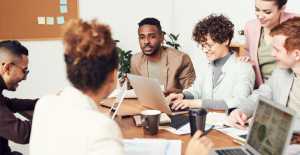 1. Challenges faced in the absence of effective staff scheduling:
Resources are vital assets to any project and these are the signs you need better resource scheduling:
A. Non-conformance to deadlines:
While missing deadlines are not subjected to disapproval, frequently failing to deliver on time can be disconcerting. When your resources do not commensurate with the timelines, it hints at faulty planning. When resources are not conforming to a strategic schedule management plan, you will fail to reach task milestones on time.
B. No account for productive work:
While biometrics and timesheets only account for attendance and the time spent inside the brick-and-mortar office space, they do not imply the hours of productive work put in by your employees. Without insights on billable utilization, improvising future schedules that could lead to over or underbooking of resources is remotely possible.
C. Workforce burns out before task completion:
Without staff scheduling, you cannot guarantee optimal utilization of skill sets within your resource pool. Your employees reach saturation level and hit productivity slack before cessation. Scheduling conflicts down the curve arise when the right resources are not allocated to the right projects.
D. Imbalance within workforce dynamics:
Inability to foresee workloads causes you to miss conflicts that adversely impact various functions like team productivity, timeline, project completion, resource utilization, etc. If the same resource is placed on multiple projects simultaneously, he/she most likely won't be able to do justice to either. Erroneous assumptions on a resource whose schedule is otherwise light but ends up tagged as slacking off, can be misleading. This fiasco arises due to the lack of complete foresight into an individual's workload.
The aforementioned challenges consume time and cause delays in critical decision making pertaining to the maximization of billable hours for future projects. Let us have a look at some benefits of implementing employee scheduling software.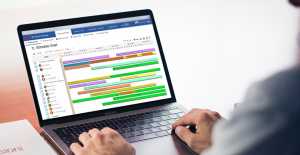 2. employee scheduling software inestimable benefits for you:
Team scheduling is indispensable in driving your project as planned. Employee schedule supports calendar management and enables team members a view of their weekly work distribution at a stretch. Their efforts and availability can be gauged to spot areas where the probability of under or over allocation of work is high. Workload can be aligned by redistributing tasks to the next available resource that matches criteria like availability, skills, qualification, experience and cost rate. Staff scheduling software is easily configurable to your current systems helping you plan projects better with lesser costs.
These employee scheduling benefits will reap profits in the long term:
A. Enterprise-wide visibility:
Employee scheduling enables a birds-eye view of your resources to match their skills, availability, preference, cost rate, and experience in accordance with the job requirement. Saviom's Employee Scheduling software facilitates optimal utilization of resources to ensure uniformity of workload and autonomous teams. Gantt chart scheduler lets you track a project's progress plan over time. And depending on the individual's commitment to various projects, be it a project or non-project related, dynamic bookings can be made with a simple drag and drop option. Options to resize bookings using the drag handles to share a project's workload among two or more available resources facilitate optimum utilization of resources. This not only increases productivity manifold times, but also saves on time.
B. Employee engagement done right:
Employee scheduling leaves no room for poor productivity levels. Your staff now works in full capacity with breaks in between mundane tasks that can be utilized to diversify skills and experience without compromising on the quality output. Optimal utilization is not just confined to hourly commitments, but extensive usage of resource skill sets. Overutilization of resources does not imply productivity and might fizzle out employee engagement in the long run. Underutilization on the other hand disengage employees by benching them despite having enough work to go around with. Staff scheduling software optimizes employee utilization to leverage productivity and engagement.
C. Transparent communication at every step:
Projects are like trains rolling down the tracks-which means once they are put in motion, it's hard to stop. Stakeholders define the success of a project and consequently, project managers ensure that they are actively managed and communicated with to avoid the route to project purgatory. Stakeholders are not just looped in at the planning but also the implementation stage which empowers them with an unclouded view of the project resource plan. Implementing an employee scheduling app allows them to track staff engagement and productivity. Stakeholders can also influence decision making processes pertaining to resource requisitions, resource utilization, project vacancies and pipeline projects letting teams only focus on the actual work. To sum up, the best scheduling software calculates the resource information and exports their availability, utilization and non-billable hours as justified outputs.
D. Meetings kick off on time and get over quickly:
If breakfast meetings are easily eating into your lunch-time, it's a clear indication that static spreadsheets are failing to achieve strategic resource scheduling. The discrepancy in data makes resource allocation a Herculean task. Employee scheduling nullifies any ambiguity in resource data exchange between teams. Choosing an instinctive, steadfast staff scheduling app enables faster and fruitful meetings which means that reaching a consensus for resource allocation takes lesser time without jeopardizing the quality output.
E. Booking generic resources fulfill foreseen demand:
Opportunities tapped for pipeline projects can be used to book generic resources ahead of time. Slice and dice allocations to make changes to existing bookings lets you create a placeholder for the exact resources that will drive a probable line of work. This not only ensures total availability of resources beforehand, but also leaves no room for surprise down the line when the slot gets confirmed and the resource gets notified of the revised team calendar. Accordingly, they can start with the groundwork in advance just in time for project activation.
Now that you know what are the advantages of deploying employee scheduling software, it is time you experience it for real!
Sign up for a free trial of Saviom's ERM software with in-built employee scheduling and manage your workforce with elan!