Picture yourself walking down a road, texting a friend you've made plans with.  Without warning, you trip over a pothole and your phone slips out of your hands. Worse, the screen you were just looking at a few seconds ago cracks on impact!
As you assess the damage and figure out if it'll cost you an arm and a leg, one of the thoughts racing through your panicked brain would be, 'what could I've done differently to avert this?'
The same thought crosses a project manager's mind when managing their teams' schedules. And with it, the decisions that influence how short and long-term targets are reached.  Every project manager would concur that the key to reaching these targets is to staff ongoing projects such that the right skills are optimally injected into core activities. Besides guaranteeing structured productivity throughout the project lifecycle, one of the benefits of a resource scheduling software is that it lets you assess your project's health based on the metrics of speed, efficiency and productivity.
In other words,  the time it took to complete a set of interlinked tasks and whether a margin showed up between actual and proposed completion timelines. As advancements in technology egg us on, project managers would find him/herself better equipped with a multifaceted resource scheduling software. Better still if its benefits were itemized alphabetically to let you remember them easily! So,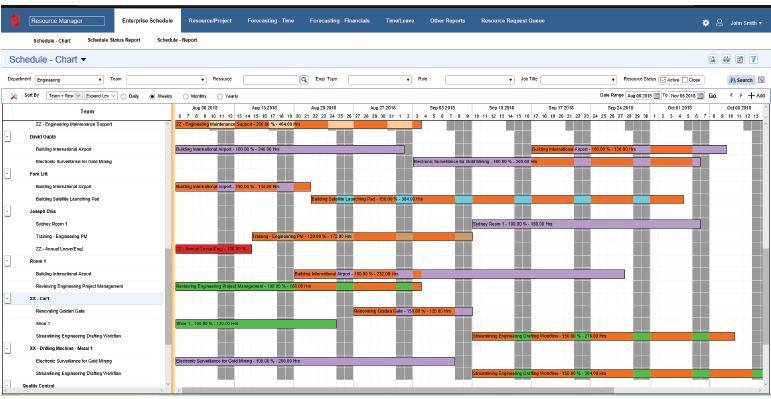 What 7 Benefits are Worth Their Weight in Gold For You?
Scheduling your staff ahead of time is a win-win for both you and them. Once you make your team's schedules available to them, they'd know how their work is distributed across the calendar for weeks at a stretch. This enables them to estimate their efforts and availability while letting you identify areas and times that they're likely to be over or under allocated.
Subsequently you can level the schedules by redistributing tasks against the next person available to commit to it. This way, you're reprogramming schedules only where necessary.
Besides factoring in support, training and additional non-core work, the scheduling component of a customizable resource management software integrates timesheets and scans them by leave and work components. This prevents you from assigning your staff extra work that exceed their bandwidth and capabilities for a particular time period.
These benefits lets your organization gain and sustain high-maturity in the long run-
1. Adjustable Resource Allocations
The first step to scheduling your resources is to have enterprise-wide visibility into your resource pool. There's twofold advantages here. For one, you'll know the exact quantity of qualified staff across departments and whose skills and experience are an exact match for your requirements.  
You'll then get to reduce the bench-time clunk by onboarding the right people, thus forming self-reliant teams who're allocated equal workloads when the time comes. Conversely, you'll know if a surplus of outdated skills is lying around eating into your resourcing spend and be poised to restructure your enterprise smartly.
Now that you have your workforce in front of you, you can create schedules based on their availability, location and commitment levels on ongoing activities running in parallel. If overallocations do occur, the resource scheduling software immediately highlights it with color codes signalling a mismatch. You can rectify these before your project task dependencies crash into one another.
2. Better Planning, Better Project Tracking
Practice makes perfect..and this rule applies to scheduling as much as it does to other aspects of project delivery. A resource scheduling software lets you plan for resourcing and project crunches alike by pointing you to scheduling conflicts that arise at any point during the project execution stage.  
If and when your client proposes changes, you and your project teams can go over them together to determine the necessity of their inclusion and how workloads within individual schedules would be altered.
Once your client and team settle on mutually agreeable terms, you can track your project curve and whether fluctuations in productivity occurred owing to scheduling changes disrupting the flow.  This lets you make informed decisions for pipelined work by reviewing if introducing the changes on past activities impacted the project, in a positive or negative manner.
3. Capacity Planning And Management
A resource scheduling software retrieves resourcing data from inbuilt capacity inventory.  By countering resource insufficiencies with skills that adapt to new market opportunities, you can attract repeat business from new and long-time clients alike.  
Those resources that possess the required depth of understanding and precision in their line of work would spend lesser time absorbing project essentials and can seamlessly fit their work into existing schedules, ensuring that your client's projects gets delivered to them on time.
Capacity management readies your enterprise for market uncertainties based on internal and external conditions such as changing purchase patterns, consumer behavior and technology adaptations. For instance, if a new technology needs updated skills, you can hire different resourcing contracts who know how to apply this technology in a practical context.  Capacity planning lets you determine if the right people worked on the right projects all along or if project quality was compromised as a result of costly and unscientific hiring- firing measures. You can accordingly staff your projects optimally such that continuity in capability is maintained throughout the project lifecycle.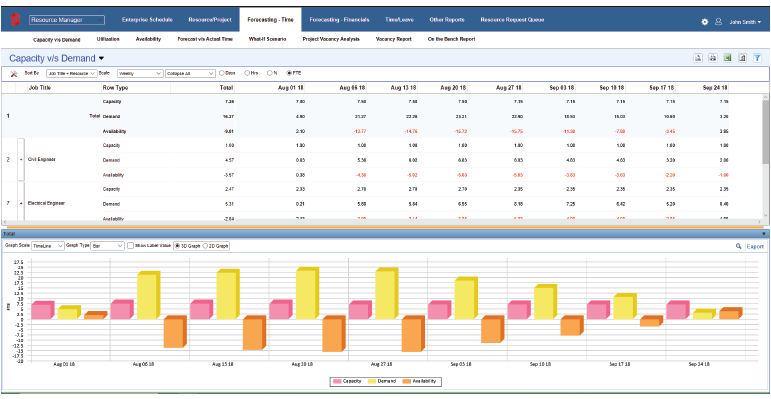 4. Demand Fulfillment Done Right
A resource scheduling software relies on your manpower's headcount to distribute them across ongoing and future opportunities. A preview into the type of demands your enterprise takes on at a high-level, therefore, lets you profile your future resource loads by how deployable they truly are.
Profiling your demand analytics by their complexity, duration, location and resourcing conditions gives you accurate estimates on these demands converting to real-world opportunities. You'll consequently avoid having your employees work on projects that consume more bandwidth than what's available and more importantly, possible.
5. Evolving Stakeholder Communication
Competing interests from different stakeholders is nothing short of a balancing act. While it's important to involve them in the initial and planning stages of a project, keeping the lines of communication open during the implementation phase as well gives them the inside track on your resourcing strategy. The benefit of a resource scheduling software is that it computes resource information and exports their utilization, availability and bench-time numbers as verifiable outputs.
Your stakeholders remain informed of your workforce efficiency processes and have a complete picture as to how their investment on the project resource plan is paying off. They can have a say in how activities in future projects are directed, leaving teams to focus only on the actual work component. These suggestions can extent to resource requisitioning, usage in terms of where and how the best minds on the force should be utilized and fulfilling project vacancies in a shorter span of time.
6. Fostering Team Collaborations
Given that no two members in a team think alike, encouraging them to collaborate on different cross functional activities brings secondary skills out in the open.
An oft-forgotten component of resource scheduling is the identification of task dependencies that are interlinked to one another. Since the quantity of resources possessing the required skills and know-how vary from project to project, it's important  to have your schedule contain a master list of project priorities.
Schedules built around actual and planned tasks lets your staff weigh in on different bodies of work. And with complete visibility into member schedules, you'll know if your teams are missing support, thereby allocating a secondary set of resources on standby who can step in during the hour of need.
Given that team collaborations are conducive to keeping an objective eye on your project activities, a resource scheduling software gives you an aerial view of how effective these collaborations are on allocated endeavors, letting you manage your teams such that they feel appreciated while being sufficiently challenged.
7. Governance Transparencies
And finally, it boils down to keeping your employees informed of changing governance mandates by ensuring their circulation happens across the enterprise. Scheduling push notifications in real-time to your resources in line with their seniority and role within the organization notifies them of their involvement in complex projects. Further, it lets your resources plan their days ahead and even factor in non-BAU work.
More importantly, it lets you appreciate their worth and in turn let them know just how valuable they've been to your firm. After all, maintaining healthy productivity scales for several years is key to a robust workforce!
Now that you've got 7 practically applicable benefits of resource scheduling on hand, why not try it on for size on your projects?

FREE eBook
The Definitive Guide for Resource Planning and Forecasting
Download
Namratha Mohan