Resource management, which was once a secondary concern, is now emerging as a discipline in its own right. From delayed error detection and correction to lowered functionality, managers have experienced the downside to traditional project management first-hand, making the case for shifting to agile management.
That being said, some businesses hesitate to work agilely under the misconception that it is not as relevant and beneficial to them as it is to the information technology sector. According to an HBR finding in 2018, however, agile adoption went beyond IT, with about 55% of organizations halfway through the process and a quarter of this group already putting it into practice.
Customers will remain engaged only if the demands of today's 'one-tap economy' are met at a satisfactory speed and cost. And Agile makes it possible to do so by changing the way processes are implemented, projects are managed and how teams work. As such, managing resources, right from scheduling the right skills for key projects to finalizing future allocations, needs changing too. Let us look at the reasons you should consider strategic resource management.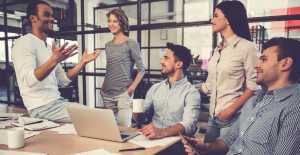 What is in store for Agile project managers?
Agile projects require deftness and proficiency in resource planning. You can't make optimal use of key skills by assigning work that is beneath or above your teams' capabilities.
Additionally, the right level and quality of skills determine the extent of project success, so there is no point in bidding for projects that neither increase profitability nor add business value.
Before creating a Work breakdown structure, it's imperative to account for current and future availability of human, mechanical and technical resources. Only then can you be aware of the limitations that impact the project schedule.
Self-organized teams are typical in an agile setting. Proponents for resource management, however, insist on its necessity to ensure the right skills are available and reserved well in advance. After all, it gets difficult to keep track of everything if you continue to rely on static spreadsheets or disparate in-house tools that are designed to solve only a particular department's problem, as opposed to the organization as a whole. Here is how to apply agile project management principles to the management of resources;
1. Subscribe to visual platforms
Visibility into both work and workers assigned makes it easier to understand cross-project workflows. The more visual the better. With resource management software, not only can you view present schedules with multidimensional sort bys but advanced search facilities can also be applied to make the drill down more specific.
To put it in simpler terms, you can reassign agile resources on the schedule rather than edit out the entire project itself. This ensures that your project remains on track for timely completion minus the risk of any resource falling through the cracks.
2. Break work into incremental sprints
Gauge the complexity, priority, and type of ongoing work; i.e. determine if it is an internal, operational or external project. This lets you check for repeatable and recurring tasks.
You can further subdivide these into billable and non-billable work (such as meetings and discussions) to make sure that nothing critical is left out of the final invoicing sent out. Incrementing work makes its actualization possible. For one, the progress to milestones is realistic. And for another, it's easier to know and confirm what is done, what's in-flight and what will be done next.
3. Appraise performances at and after stage gates
People thrive on feedback and providing it on an ongoing basis improves employee performance. Rather than wait till the end to compare efforts with the expectations set out at the start, it is better to appraise your project team member's individual and joint contribution to tasks while the project is underway.
Besides confirming that the milestone reached meets the desired quality, regular checks let you lead better, feed-in experiential insights and distinguish high, average and under performers. An agile project management methodology also makes teams more communicative, thereby enabling them to work with each other and inform you in advance of elements within their control, and factors that weren't.
When a project is dissolved, halted or blocked, you end up dismantling teams and losing sight of skills relevance. Consequently, you get caught in an endless cycle of hiring, firing and rehiring skills you initially deemed unneeded. You can use the time, workload fluctuations and market slowdown to your advantage with the right resourcing treatments. For instance, you can give average and under performing members the option to skill up with relevant competency improvement measures. Or you can adjust project timelines, enabling work-readiness down the line.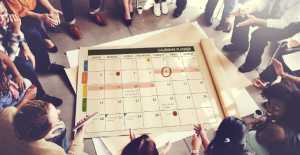 Here are some factors to help you profit from the benefits of enterprise resource management
1. Capability assignment
Agile resource management is all about leveraging individual expertise strategically. With advanced reports into skills utilization and existent capacity, you can ascertain if each team member has the capability to meet incoming demand. An assessment of capabilities lets you assemble a fixed, cross-functional team that can drive future work by sharing skills collaboratively.
2. Shared accountability
The advantage of making your teams agile is that they remain self-managed. What's more, they're in the position to diversify their skills while remaining an expert authority in a particular knowledge area. This encourages shared ownership of work and prevents your staff from going off on a tangent. Shared accountability not only simplifies how work gets delegated but also fixes team costs according to the size, experience and skill set of team members.
3. Resource flexibility
Following the agile approach to project management lets you create a sustainable resource model that evolves across a disruptive landscape. Matrixed projects require skilled manpower coming in from different quarters. And the more versatile your employees are at skilling up, the quicker they grow with your business. That being said, there'll be a point in time that your resources will outgrow their remit. Flexibility gives them the wiggle room on a diverse range of projects that not only equip them for work-readiness but also enable them to help with a struggling task elsewhere.
4. Easier Sprint planning
Sprints are timeboxed events, requiring all hands to be available for that particular time. As deadlines move up or extend, sprints can adapt accordingly with agile resource planning. While you'll know of planned absences and training programs taking up the bandwidth, it's the unplanned absences once the sprint is underway that will impact team productivity and task completion. Should such an event arise, enterprise resource management can help you recheck the availability and relevance of secondary resources and release them to a starved sprint!
5. Structured dynamics
Customer collaboration over contract negotiation is a key pillar of the Agile Manifesto. And with a tool to manage resources, good working relationships can be cultivated both internally, and externally. The need to collaborate applies to project teams as much as it does to client interactions. Project managers skilled at conflict resolution would be able to group skills based on how well members possessing these skills get along with each other. Relevance and readiness to a project aside, a conflict between any two staff can lower productivity and compound progress.
What's next?
All elements of project management apply to resource management, from planning and execution through to deployment of organizational resources. The key to efficiency improvement is a synergy between the two. Armed with deep insights into future work and availability of the skills needed at a later date, you'll be in better control of your pipeline, thus bringing about a business transformation!

FREE eBook
The Ultimate Guide to an Efficient Resource Management
Download
Namratha Mohan