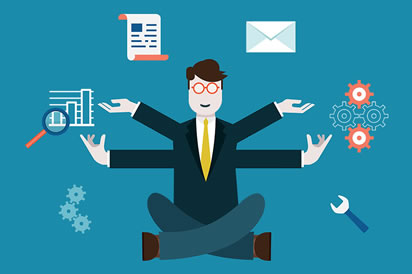 The Project Management process is in the heart of most organizations – irrespective of the organization's size or function. While most managers are quite proficient at the different methodologies involved, Resource Management is still an afterthought in the corporate dynamics of planning. But the brunt of not having a Resource Management grid is often felt in the gap that these multifaceted Project Management techniques leave behind. A conceptual understanding of the two relies on the fact that these two are co-dependent and work best in collaboration.
Resource Management may be defined as the "efficient and effective deployment and allocation of an organization's resources when and where they are needed." The 'when and where they are needed' is in most cases the project in question itself, and thus PMI lists Resource Management as one of the 9 principles of Project Management.
So what sets them apart?
Goal
Effective Resource Management is staff-centric. Its primary philosophy is to achieve optimal utilization of all the resources available at any point in time (from people to machinery). Project Management, on the other hand, is the comprehensive valuation of the project objective, planning the different tasks at hand, overseeing their execution and evaluating them. Simply put, it is task-based and treats resources as a means to reach the end.
Approach
Project Management revolves around planning and Resource Management revolves around optimization. For example, if you are building a ship, a Project Management system will evaluate the objective behind building this ship and list the different processes involved from designing, construction, machinery and people allocation to quality checks. A Resource Management system will make sure that your people are utilized to their best potential, your machines are working at optimal capacity and that you are allocating an appropriately priced resource for the job. Resource Management maximises your value addition at the least cost. Project Management meanwhile will ensure systematic execution and timely delivery. So to speak, 'Resource Management within Project Management' is the route managers often choose to take.
Method
Resource Management adopts methodologies that are close to the HR function of an organization as well as that of the PMO. As a resource-centric system, it gives you a fair understanding of your workforces and valuable insights in harnessing them. This could help determine the nature of your hiring or training season as well as maximize the output of the existing resources. On the other hand, Project Management's functionality remains strictly in the PMO, meaning, it's designed and executed to ensure timely delivery of the highest quality output. The system evaluates tasks from time to time and makes way for a hassle-free workflow.
Technology
Although Resource Management and Project Management provide software that complement each other, they have very different functions. Project Management software accommodates everything from dynamic budgets and shifting roles to real-time updates and quality check tracking. A Resource Management software focuses on scheduling the right person for the right job and ensuring that a manager has complete visibility of all the resources he /she has, with respect to the projects that are being worked on. Further, Resource Management tools help foresee requirements and ascertain the productivity of the whole process.
Project Management and (Project) Resource Management must be understood in relationship with each other before they can be put to practice. Choosing just one of these methodologies would be like incorporating only half a strategy. Embrace a two-fold plan that places enough importance on both these facets and you will definitely see your team outdoing itself many times over.
For more insights into resource management, click here and join our weekly newsletter.

FREE eBook
The Ultimate Guide to an Efficient Resource Management
Download
Aakash Gupta