The evolution of technology has propelled a myriad of innovations into the industry. From lifestyle to the professional sector, it has influenced all spheres of life. In fact, integration of several disruptive technologies like Artificial intelligence, robotic process automation and augmented reality has reinvented the way businesses function.
With that, the checklist of soft skills for hiring new talent has changed too. This is because the skill set has to align with the future business landscape. With automation driving the industry, skills that build a complementary relationship between the emotional intelligence of humans and the efficiency of machine learning will work wonders for the future workforce.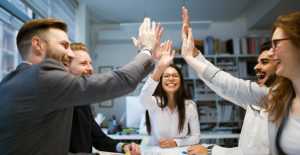 Let's have a look at the soft skills list that will dominate the market by 2030:
1. Contextualized intelligence
Technological enhancements have enabled self-regulation of mundane tasks that take up a surplus amount of time of employees. However, businesses are not just about that. They rely on emotional judgment, critical thinking and analytical skills in their workforce. Along with understanding what technology has to say, it's also important to analyze the reasons behind it and then draw a conclusion.
Even with the abilities to automate, machines cannot make decisions for an organization. A nuanced understanding of work culture, business and people is essential to strategize and streamline workflow. For instance, AI can shortlist candidates for hiring; however, only a HR would know who is best suited based on the candidate's personality. Hence, contextualized intelligence will become increasingly important and stay atop the soft skills list.
2. Automation proficiency
Not every company or every employee is happy with the permeation of AI. Why? Because rumors are flying thick and fast that more jobs are getting replaceable, requiring fewer human workers. But, contradicting this, AI aims to simplify work processes and provide leeway to employees to work on more important tasks. And these are the tech-savvy employees an organization will require who will accept AI and integrate into their daily schedules and at work.
AI assistants when deployed in daily lives will keep track of almost everything from fitness to surveilling your home 24*7. This will keep employees away from distractions and increase their productivity. Besides this, adopting automation at the workplace will enhance your business landscape and make it more advanced. Besides being important for tech employees, automation literacy is also an important soft skill for managers who aim at increasing profitability and doing more in less time.
3. Entrepreneurial approach
John Spencer, an influential author has helped employees develop an entrepreneurial mindset and pursue projects they are passionate about. He inculcated the concept of design thinking which channelizes the whole process of problem-solving. This in turn encourages creative thinking amongst the workforce. Enterprises can take cues from his research and foster this approach.
Why is it so important?
When an employee has a mindset as that of a visionary, he thinks of the organization as his own and tries reforming it to the best of his ability. With AI and robotics ruling over, the talent pool will be required to take charge and stay proactive to prevent certain roadblocks. What's more? They will be expected to utilize these advancements to reform the business and drive innovation. Hence, an entrepreneurial approach is a business soft skill that employees will be required to have to help businesses grow.
4. Adaptability and continuous learning
Adaptability will be a hallmark with the ever-growing impact of AI and machine learning in the industry. Accepting the transformation and using it for your firm's benefit will be of prime importance in 2030. Considering the 2020 IT trends under watch, organizations can compete only if they're ready to keep up. Hence, the ability to learn at the moment will trump the skills that you bring to the table.
With the reinvention that AR and AI has done to the learning systems, employees can learn soft skills in the workplace conveniently. In the AR of the future, as soon as workers begin a novel and unfamiliar task, the information will be shown in their field of vision. This will help them learn and apply their knowledge at the same time. One, you are accomplishing a task before you cross the deadline and two, you are upgrading your knowledge repository. Absorbing and applying the information at the right time will be the most valuable personnel for the future workforce.
5. Team management
Along with technology, the workplace is experiencing certain shifts too. There are new modes of operating where employees will need to collaborate with contractors, freelancers, and consultants. In other words, teams will diversify, both geographically and professionally. Cultivating collaborative dynamics is important for these diverse teams to stay afloat. Moreover, as gen-z enters the industry, there will arise a need for a coalition of different generations. All this leads to the requirement of leadership soft skills like team management.
Essentially for leaders and project managers, the team management will be of top priority. Because their ability is gauged on how well they coordinate between team members. They will be expected to harness environments of engagement and constructive discussions. Alongside team management, project management soft skills of agility, creativity, and resourcefulness will prove more beneficial than ever.
Over to you
The integration of tech innovations has also led to the requirement of indulging certain soft skills unique to humans like empathy, analytical thinking, and creativity. By 2030, the industry will be taken over by automation and AI. To sustain the advancements and take your business to greater heights, leaders would want to recruit resources with the above mentioned soft skills.
To inculcate the same in existing employees, a soft skills development program can be organized where the talent pool is re-trained to increase the productivity and profitability of an enterprise. Forward-looking leaders who will invest in soft skills training will find themselves surrounded by people who can blend the human mind and machines most efficiently.

FREE eBook
The Ultimate Guide to an Efficient Resource Management
Download
Anuradha Mansinghka