Emergencies are a fact of life. And for any business venture, risks are something that is part and parcel of the total business. From human resources, processes and profitability to assets- a business continuity plan (BCP) can help restore normal functions after an emergency.
At the end of the day, one really cannot predict when and where things will go wrong. A BCP plan can help organisations improve the company's future in a well-thought out and defined manner.
A continuity plan is based on the concept of retaining business functions in the case of emergencies. Natural disasters, cyber attacks, and other dangers are covered to be handled in this exigency plan.
They help keep the workplace stable under all circumstances and would be in charge of a business transformation, depending on the casualty.
With a list of the appropriate initiatives to be taken by each component in an organisation, this plan helps your company bounce back easily from all projects.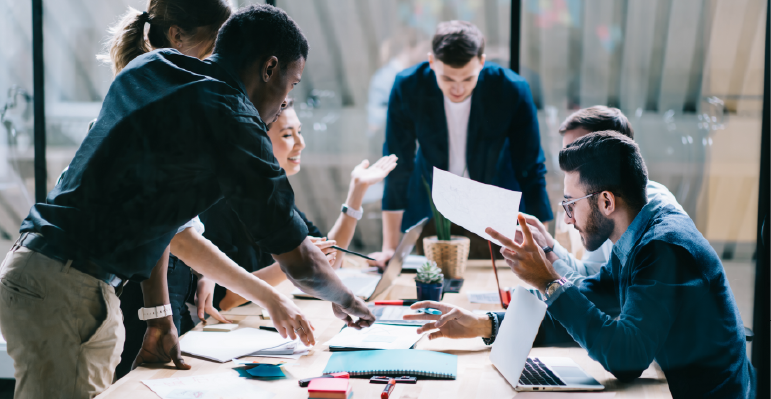 1. Basic components of a business continuity plan
So what does a business continuity plan include? Well, it begins with an understanding of the key business areas of the organisation, and what would be the scope for the business process transformation. The next step includes listing the critical functions to make sure the company keeps running and maintains its baseline.
A good continuity plan would include an estimate of the downtime which will be acceptable for each of these critical functions, without impact the company.
A clear understanding of the different functions carried out by the company along with the different business areas is also necessary. In addition, the plan should detail out the process transformation required to restore operations during emergencies, and bring the company back to normal.
Let's look into detail at these different aspects of a business continuity plan.
A. Assessment of problem areas
All issues may or may not pose to be a potential threat to your business. The most obvious threats that you imagine your business to be affected are man-made or natural disasters. However, it may impact different industries as well.
For example, an IT continuity plan would not include tornadoes as much as it would affect a construction company. After all, a natural disaster risks causing structural damages that take longer to rebuild once the calamity has passed.
It is important that you are aware of the threats which can affect your business and work environment. Most of the contingencies should be covered by your plan. It is also preferable that you consult subject experts and senior management who have been in the field for a long time.
B. Role delegation
Resources are the most informed asset in your organisation, and therefore, are the most valuable. In times of a crisis, it is important to mark out steps for primary stakeholders or executors of the BCP plan, which will help them manage the situation better.
A well-established chain of command saves time and helps take action instantaneously during the time of a crisis. The last thing you would want during an emergency is staff members shrugging off responsibility or worse, be confused about what to do.
Your corporate business continuity plan can be undertaken in the workplace through an executive committee. With governing bodies such as the Steering committee member to the planners, an additional responsibility with a formal designation would improve their accountability as well.
C. Crisis management
Crisis management is one of the most important steps in a business continuity plan. They need to keep in mind the needs of the office during an emergency, and also work on the recovery of the business after the crisis is over. Needless to say, these teams have to stay alert always and be the first ones to recognize and face issues.
An ideal example of crisis management teams is the disaster recovery team. They are equipped to handle natural and man-made disasters that impact the workplace. The specialists in this team which have a lot of responsibility are in the areas of safety, IT, communications, personnel, and other fields.
Apart from handling the crisis first-hand, training and development of other staff members would also be important. This will help every office employee to be self-dependent in the long-run. For example, in the case of physical emergency, other members would be able to handle themselves better, and also follow the orders of the recovery team.
D. Important provisions
One of the most important things which would affect businesses during a crisis is the data of the company. A good business continuity plan will include a detailed plan for restoring the lost data under any circumstances. With the increasing dependence on technology across industries, cybersecurity and social engineering attacks can also be a cause for concern across workplaces.
In terms of physical disasters, backup plans should be made to restore the power connectivity in the business. With the help of an administrative team, provisions can be made to maintain power backup under any circumstances.
Therefore, at the end of the day, the role of the administrative department is of much importance in a business continuity plan. From emergency contact numbers, to the delegation of key personnel for disasters or other crises, emergencies cannot be averted without the support of the administrative team.
E. Alternative strategies
The first impact of an office crisis is usually the lines of communications, especially during disasters. An efficient business continuity plan's first call for action should be to re-establish. There should be an agenda to maintain an emergency contact list, along with a plan of action to re-establish contact. The strategy should also focus on informing important stakeholders, including remote workers and management.
Safety is another important consideration during an emergency. Staff members should be sent to a safe location immediately, till the stress period is over. The ideal plan should have a branch office or a separate location where people can be transferred.
Depending on the severity of the damage, alternative solutions will have to keep operating in the long run. Therefore, it is important that proper budgeting and manpower allocation is made for the contingency plans.
F. Recovery plan
After the stress period is over, the business continuity plan will have to work the hardest to bounce back to its pre-disaster phase. Assessing the damage will also include the estimation of the repair and recovery costs which should be included.
In the recovery phase, the continuity plan agents would be in charge of overseeing the recovery work as well. Transitioning of business management operations will also form an important part of their work as well.
Another aspect would be to replenish and replace emergency supplies as well. This would include restoring all alternative arrangements used up during disasters.
2. Ways to test your business continuity plan
In order to ensure that your continuity plan can face any crisis, tests need to be carried out to counter probable emergencies that the company could face. However, the best way to make sure that the business plan works is through simulation exercises.
This can help everyone stay better prepared during an emergency.
Most companies test out their business continuity plan at least twice annually, or once every quarter. This improves the relevance of the plans, and helps employees to be better equipped to handle emergency situations.
The following three methods are great examples of how continuity plans can be tested out in your office:
A. Table-top exercise: This is where the crisis team discusses the plan in detail in a theoretical manner. Strengths and weaknesses are discussed in detail, along with gaps and making sure that all businesses are represented equally.
B. Detailed walk-through: This is a simulation of what each of the employees goes through during an emergency. You can also incorporate specific disasters which has happened. With a role-playing of each of the main employees, any weaknesses can be immediately picked up and rectified.
An emergency evacuation drill can also be planned for the whole office where everyone can figure out what each team member should do in the case of a disaster.
C. Crisis simulation tests: Here, a disaster can be simulated once or twice a year. From the equipment to the resources and supplies, all these situations can be changed to simulate disasters. This can help to verify whether people can complete their tasks and manage the crisis with minimum support.
A comprehensive and sensitive business continuity plan can help pre-empt any disaster and employees can be prepared for it as well. At the end of the day, a more organised workspace can make you well-prepared as well.
A resource management software, for example, can make it easier to implement the business continuity plan. With an exact assessment of the current and future demand for resources, you can scale up emergency plans as per your needs.