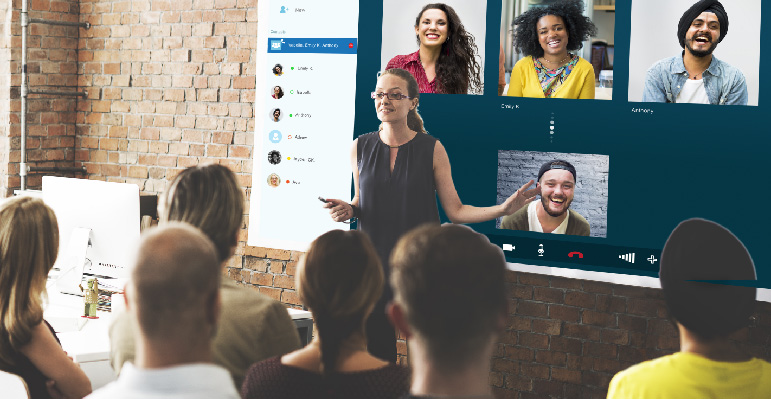 Virtual teams have become a necessity for almost every organisation, and you can thank globalisation for that. Diverse work practices are the norm of the day today with organisations reaching out across geographies for work. Long gone are the days of fixed hours and desk jobs for employees. Working has become more flexible, and so has hiring for them.
Working in virtual groups has also become popular with the advent of technology. AI processes, cloud computing, and other innovations have made it easy for workers to log in from anywhere across the world, making it easier to work. And project managers would know the reduced project costs of virtual teams and their popularity among organisations. The focus, however, remains on ensuring both remote and onsite workers remain connected.
Let's look at some of the ways in which virtual teams can be managed better in the long run.
1. Tips for managing virtual teams
A. Have set goals and processes
The scope and processes need to set right at the beginning of the project, especially when you are leading virtual teams. Invest adequate time to carry out the tasks by each of the members in the remote teams.
Simplifying the tasks can make it easier for your team members to follow through as well. Make sure that your team knows how their work is aligned to the company's aims and goals.
B. Keep communicating regularly
Communication is key when it comes to virtual team building. Multiple networking tools are the best way to work to overcome any situation. This can include an urgent mode of contact for emergencies.
You can also maintain other channels for special conference calls, screen recordings and others. Tracking progress through a resource management software can be a helpful way to convey project progress.
C. Maintain common agendas
It is important that you have certain plans in common for a successful virtual team. Plan your working hours in a way that it overlaps with some part of the remote team.
This way, queries can be resolved faster, and you can stay regularly updated on the work done. You can also schedule meetings and maintain a common calendar for seamless communication.
D. Give regular feedback
Work on your virtual team as much as you would on your physical teams. For any employee to perform better and remote team building , it is important that they get proper feedback and encouragement.
Arrange for two-way sessions with your virtual team members, and be open to receiving feedback as much as giving them. Be receptive to the team requirements and plan out initiatives accordingly.
E. Allow others to lead
One of the important things to remember while maintaining a global virtual team is to share leadership among members. Allocate responsibilities and targets to members which would make them follow up better, and achieve more targets in the long run.
You should also recognise and reward the high-performing team members, which would help other team members build morale.
2. Challenges of virtual teams
The biggest challenge to managing a virtual project team is keeping track of what they're on or have completed. From lack in communication to lapses in following-up, the chances of you losing track of your team are very high.
Your project can also be affected by team members who do not understand or get along with each other, making your management process counter-productive in the long run.
Time-zone differences when working across countries can be one of the major virtual team building challenges. As one office closes for the day, the other would just be getting started, meaning critical team members may not be reachable at all times.
With this in mind and the obvious physical distance, sudden changes in the project planning can make it difficult for you to delegate immediately.
Lastly, your employees may also feel demotivated because of an increased amount of time in front of computer screens.
Nonetheless, virtual teams can be a boon for you when you know how to manage them properly.
3. Some of the known benefits of virtual teams for companies include:
Employees can work in virtual teamwork without restrictions on the location of the project or the employees.
Infrastructure expenses are reduced to a minimum when you decide to go for a virtual team for your work. Office infrastructure, visa fees and relocation costs become redundant when you choose a virtual team.
Getting a virtual team gives you more control and improves accountability than hiring freelancers for your project. You can also track their performance better.
Virtual leadership becomes easier with flexible employment terms. You can choose contractual or short-term employment terms, based on the duration of the project.
Your employees can get more work done with flexible work timings, like in the case of working from home.
A tool like resource management software can go a long way to keep your project on track. It helps you plan for your team better with optimised resource allocations and accurate staff predictions. You can also book these resources ahead of time and complete all your projects on time.