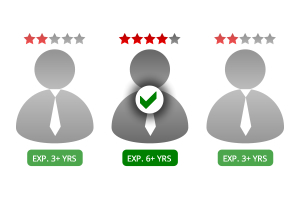 You were all set to go. The scope had been clearly defined, documented and agreed upon, and the team was comfortable with the budget. Everyone was on board and excited about getting cracking on your project. But as the weeks roll on, things are beginning to fall apart. Everything is taking longer than expected, the team is growing frustrated, the spreadsheets are complicated, and reporting has become a complete nightmare.
If you've been in a project management office (PMO) for any length of time, you'll be able to relate – and you'll know that when there are human beings involved, no project ever goes exactly to plan. It's the reason an entire industry – the enterprise resource management industry – has grown so quickly.
When good projects go bad, look at the resourcing
Human beings are easily the biggest risk to project success. Unlike machines, which are uniform and able to consistently deliver the same outputs, people are all different. We each have a unique set of skills, experiences and insights, which means that we each contribute something different to a project.
The inability to understand and properly manage the individuals working on a project is all too often the reason that good projects turn bad. And once a project has turned bad, it's very difficult to make it good again.
The biggest resourcing risks we see today are:
1. Not having the right resources
Not having people with the relevant skills, experience and insight can be detrimental to the success of a project. Not only will the project take longer to complete, but the quality of work is at risk. At worst, this could result in the entire project being scrapped or redone by others (the people who probably should have worked on it in the first place).
2. Not having the right number of resources
When deadlines are tight and there's a lot to be done, you need all hands on deck. On the other hand, when the work is specialized and only a few have the skills required, you may not want to have too many cooks in the kitchen. Balancing the number of resources on a project requires careful and continuous planning.
3. Not having resources at the right cost or in the right location
Of course, everyone wants the best people working on their project. Unfortunately, budget constraints often mean you just can't afford to have all the best people all the way through. Having a clear picture of the different skillsets available to you will help you avoid blowing the project's budget. For example, you might decide to use a few experienced individuals who can monitor and mentor a big team of less experienced resources. This is also a good solution if you aren't able to find the resources you need in the location you need them.
Poor resource scheduling is why we see so much complexity in project management today
Unlike departments such as Sales and Marketing, a lot of PMOs are still holding on to their inefficient but familiar approaches – with many relying on manual processes and convoluted spreadsheets. Resources are often requested manually, over the phone or via email, with no effective planning or monitoring.
As a result, PMOs lack real-time visibility of vital information including demand from the business, and team capacity and competency. Without a clear picture of this information, managers are unable to identify the best resources for each project.
It's no wonder then, that forecasting (both resources and revenue) is such a notoriously difficult task, and that reporting is so painful.
To encourage such meetings, you will initially require the use of an outside professional who can help implement the best methods of gelling different senior managers to coalesce as a team. If hiring an outside professional is outside your budget, then having someone from HR adjudicate these meetings, can also be equally beneficial.
A lack of integration with other enterprise systems makes matters worse, resulting in multiple versions of the 'truth', duplication of effort, and high levels of inefficiency. The end result is a predictable tangle of unstructured, chaotic and inefficient processes that lead to unhappy employees, late and over-budget projects, and general misery.
Learn more
In order to improve productivity and mitigate the risks associated with poor resource planning, PMOs require a high level of visibility and control. They need the ability to quickly and accurately forecast resource demand, view resources by project and location, and allocate work to each resource. This can only be achieved through the use of intelligent resource management technology.
Visit www.saviom.com to learn more about our powerful resource management solution, or to book a demo.