Yet another year brimming with new opportunities and technological innovations begins. And business landscapes are looking to benefit from the renewed vigor that drives project management trends for 2018. While few trends witness premature booms before fizzling out, few others steadily grow and add on to the larger scheme of things.

As we all scurry back to work with bigger coffee mugs than ever, it is a good time to pause and evaluate such trends that are likely to dictate success stories in the months to come. Not all of them are entirely new and not all of them are tangible for an average project management outfit. But they have all evolved from learnings of the years gone by and are on the cusp of the new benchmarks of success that your business can leverage.  

For example, as much as the PMO and EPMO are here to stay, it is really up to an organisation to evaluate its functions in the context of their operations so as to maximise profitability. Similarly, while the talk of the Internet of Things dictating machines has been on for a long time now, the investment businesses want to make in them still requires individual discretion.

Simply speaking, acknowledging these trends gives you the edge to get started well in time. For, the next big milestone is just around the corner!
1. Welcome to the year of the PMO and EPMO
If numbers from 2017 are anything to go by, the Project Management Office (PMO) is gaining momentum as we speak. Besides the sheer number of PMOs alone, the maturity and magnitude with which they operate have changed significantly as well. And to solidify the bridge between an organisation-wide strategy and profit-driven grass root execution, EPMO or Enterprise Project Management outfits have taken over.

Market Pundits are expecting PMO trends 2018 to follow suit, which means a nuanced PMO is likely to be the epicentre of your projects. The PMI's Pulse of Profession 2017 survey, for example, found that in the last decade (from 2007 to 2017), the number of organisations with a PMO has steadily increased from 61% percent to 71%. Half the number of organisations with PMO have an EPMO too. Organisations with an EPMO further seem to have a 38% increase in projects that meet original goals and business intent.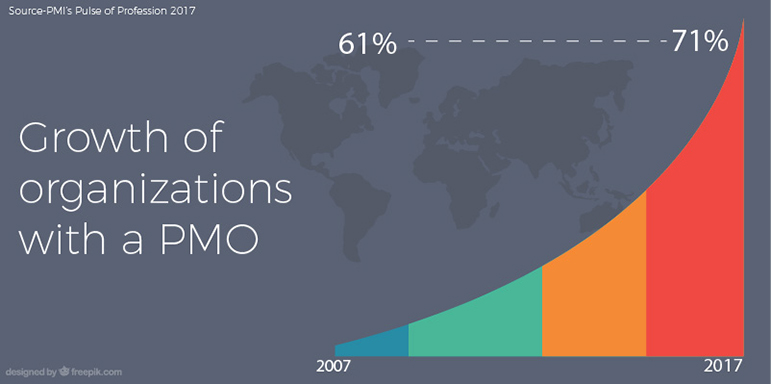 Here's what Killian Kenny, PMO Director for Ireland, Stryker Corporation, had to say in the same study –
 "The initial step was to paint a picture of what the future looked like, sell the benefits, and fully integrate leadership on that journey. The key was to evolve and pursue the low-hanging fruit where tangible returns were very evident. In a relatively short period, people began to understand the value proposition and, as a consequence, the PMO has grown exponentially in the intervening period."
It is safe to say that this year, most organisations – big or small are likely to find their PMO niche.

 

2. Resource Management is finally going to get its due
Buzzwords like disruption and optimisation are yet again going to remain dear to the C-suite. This appreciation toward achieving more with fewer resources is likely to bring data-driven resource management into the forefront. Given how a well-aligned resource management scheme is in its nascent stage in comparison to project management and human resource management, latest trends in project management are going to rely on efficiency sciences. 

On the other hand, organisations that don't encash this strategy are likely to face a shortfall of skilled resources. To quote  The Project Management Group's managing director, Johann Strasser,
"The availability of a sufficient number of suitable project staff will remain the most critical factor in project planning. These days, it takes months until vacancies are filled. This affects the project portfolio directly. Not only do companies need to decide what projects to implement. In deciding which projects they are able to start next, they are now even more dependent on actually available qualifications."
A unified repository of resources and their skillsets, the ability to forecast future demands, real-time updates of all major KPI reports to the benefit of multiple stakeholders and enhanced skill-based utilisation of expensive resources are just some of the vitals organisations need to work towards.

 

3. Say cheers to millennial project managers 
With the millennial population getting enough experience to attain managerial positions, 2018 is likely to witness a robust crop of young managers taking over as project managers too. By 2025, 75% of the global workforce is likely to be comprised of millennials according to this study by Deloitte. It is safe to say that management trends 2018 point fingers towards a young crop of diligent managers. 

Millennials bring with them both the potential to question rigidity of the years gone by as well as the fluidity to redefine success stories of their predecessors. As the first generation to be original digital natives, they have had unmatched access to knowledge and an inherent flexibility to explore greener pastures. Also being the generation that likes to switch between opportunities, millennials may potentially cost businesses both in terms of profits as well as capacity.

Millennials have proven to be successful at striking a balance between work and personal life in comparison to Generation X. This has led them to manage projects on different benchmarks and evaluate new parameters. They also have a tendency to make quicker decisions than the earlier generations did and thus maximise productivity. Exceptionally collaborative and highly communicative, they have begun to cause a paradigm shift in the freelance market.
Companies on their part have to embrace the millennial attitude and modify their way of functioning to make the most of the millennial tech-savvy DNA. It is important to make note of the fact that the generation comes with diverse backgrounds and a dynamic school of thought that make up for their textbook 'lack of experience'. A work culture that accounts for all of this as well as harnesses millennial innovation with gen X's traditional experience will build itself sustenance and success. 
4. An Agile workforce will be your bluechip investment
40% of the workforce is believed to be transitioning to on-demand contracts by 2020. For companies that have a multi-layered workforce and provide professional services, it is all the more important to make the most of the flexibility that the gig economy has thrown open. 

And reiterating the fact that millennials cost companies millions with their recurring job switches, shorter project-based contracts seem to benefit both parties involved. Besides, given today's hyper-specialised workforce that seems to have redefined the threshold of work-life actualisation, going beyond the confines of regions to find more viable professionals virtually, can directly contribute to a project's success. Remote projects are easily becoming the norm.

Another shocking prediction that has been made is that 40% of Fortune 500 companies won't exist in 2025. Since 52% companies from the original Fortune 2000 no longer exist today, this is quite something to ponder about.  Jeff Wald in this Forbes article sums it up very well when he says, 'Darwinism at its finest…adapt or die.' All in all, organisations have to begin to address this shift towards a contractor-led economy for their own benefit.
5. Actionable insights and artificial intelligence are both AI after all!
Talks of Artificial Intelligence and Internet of Things have been doing the rounds for a long time now. But 2018 is touted to really be the historic year that begins the era of affordable innovations in the space. Both cognitive skill matches in project management, as well as automation of non-human resources in machine-intensive projects, are on the radar. That apart, bots that provide support functions have been seen in most industries and project management is no exception, although this really does not account for much in the traditional sense of project management.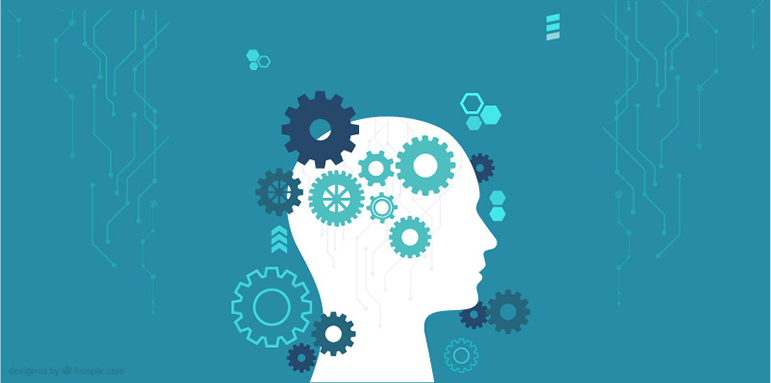 While a general majority of workers do fear that their work is going to be affected by automation, the first generation of bots, at best are likely to be project assistants. The future of decision making, prioritisation and accuracy of performance data are all part of an eventuality as things currently stand.

Bots that replace administrative tasks is something project managers can certainly expect. However, it is interesting to evaluate the findings of this  HBR study that found contradictions between managers who felt that cognitive science will transform human lives even as project success stories had a different story to narrate. Let us then hope for our sake and that of our posterity, that the visionary of our times, Thomas Gruber was right when he said, 'As machines get smarter, we get smarter.' 
Knowing how the trends of project management in the era of millennials tend to shape themselves at shorter intervals than even a year, every quarter is likely to see the world obsessing over a new innovation. However, customer satisfaction for client-centric services and product perfection for solution providers remain to be safe harbours in this highly-competitive atmosphere.

What are your thoughts on the trends that your company is looking to invest in? Do you see your work getting influenced by it? Share your stories in comments below!

FREE eBook
The Ultimate Guide to an Efficient Resource Management
Download
Nityashree Yadunath