Most PMO conformists are often averse to the agile culture because it is unfortunately associated with a kind of anarchy that leads to a failed project – something it started out to avoid in the very first place. Agility and its resolve to prioritize people interactions over processes, a working product over documentation, customer centricity over contract formalities and ultimately being change responsive over being plan oriented, can be difficult to be confined within a 'structure' as we are used to. Yet it can prove to be one of the most successful methodologies of project management when implemented with enough agile governance.
Besides, when it comes to a PMO's role in governing this iterative, highly-effective culture, it is possible to balance governance with fluidity, as long as the PMO, by itself, is hands-on, adaptive and open to shifting plans. This can also point in the direction of an AMO –  Agile Management Office –that breaks free from a centralized, linear PMO and instead is more in sync with agility even as it establishes visibility over processes, a semblance of long-term vision and enough governance to avoid the aforementioned 'anarchy' which can, at times, be a genuine concern with agility.
Even if you are only toying with the idea of a mixed portfolio with few agile projects and are not going to be able to justify the cause of an 'AMO', the best practices detailed below could help achieve the right mix of agility and governance.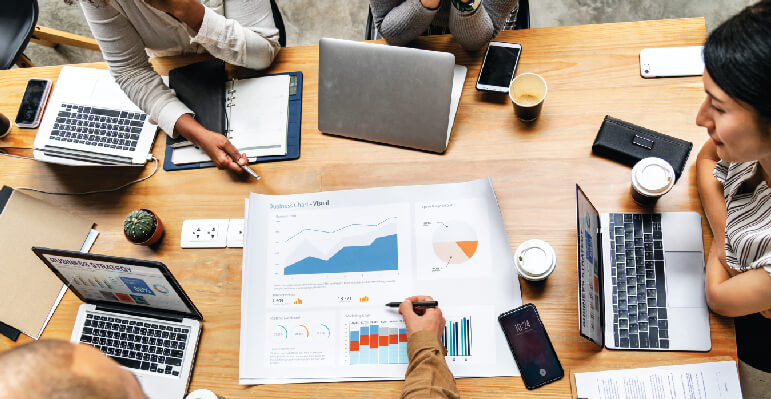 1. Keep a track with stories and visuals
Before this sounds like a video production effort of sorts, stories are the 'documentation' aspect of an agile process wherein the story points detail out the crux of development effort transpired in short, fast-paced cycles of 2-4 weeks. These story points are the premise of the forecast estimates that can be made for the cycle and over a period of time, they provide reliable information to predict the outcome of future iterations as well.
This also ties it to the component of having a 'working software' much earlier on in the development process and having quick demonstrations of this working prototype, as opposed to waterfall's linear development style in which stakeholders often wait for months before being able to actually 'see' the product. Stories and the progress of the working model with respect to the planned outcome for the cycle, together nurture governance and develop discipline.
For the PMO to further be in the loop at all points of time, having sprint reports that measure the 'velocity' of development, visual Gantt charts and status reports may help obtain reports that satisfy the conventions of having a 'defined' plan.
2. Make communication and collaboration non-negotiables
With the agile methodology, there is a popular misconception that projects are independent of the triple constraints of time, scope and resources and that the PMO does not really need to track them. This, however, is untrue and the PMO in an agile space has to monitor them constantly but what really shifts is the nature of communication.
In a centralized PMO, its agents facilitate and streamline communication. Whereas, within an agile atmosphere, the PMO has to go an extra mile and open seamless communication channels between teams without actually having to regulate this communication or be the only facilitator of collaboration.
This results in a highly effective atmosphere wherein teams collaborate with each other and choose to solve real problems instead of getting stuck by the shackles of protocol. More importantly, they usually cultivate a sort of flat-hierarchy in which individuals regulate themselves without the need for constant external pushes. An inspired, innovative team, as a result, will also have a consistent channel for peer-to-peer learning and further be able to deliver quality and add exceptional value.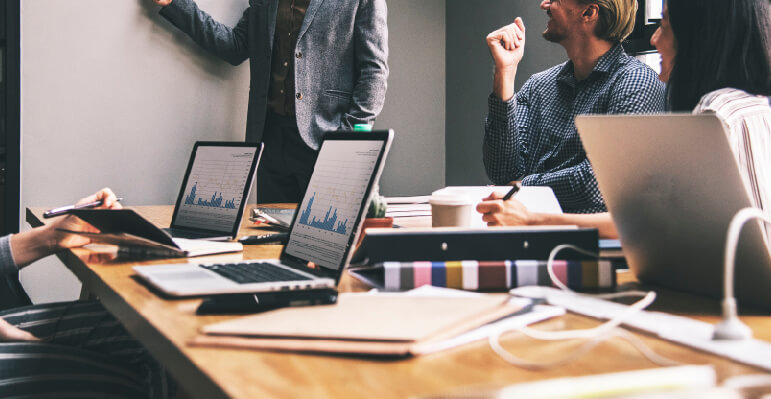 3. Re-evaluate. Re-order. Repeat.
Agile governance thrives on revisiting business goals and aligning IT output with it at regular intervals so that the final product gets future-proofed. This iterative nature of the process makes wholesome changes achievable, over a confluence of business and IT strategies being brought to the forefront. As one of the most underrated aspects of governance, prioritization pushes all the right keys forward – ensuring that the product has quality development that addresses the need for high-return problem solving.
For example, in the wake of the 'fake news' being circulated, products in the space of mass communication are facing the immense pressure to develop functionalities that counter such malpractice. To be able to generate reliability and advertiser as well as customer buy-in that translates to revenue, the constant innovation and experiments that they undertake must keep up with market trends. This ability to take quick decisions and prioritize on the go is an agile PMO's prerogative.
4. Regularize meetings and approvals
Lean governance is a part of agility given how regular reviews are a deciding factor. However, with agility, the governance gets focused on the product's functionality rather than that of 'protocol'. As a result, governance by itself plays the vital role of empowering products with the insight that helps in aligning them with larger business goals.
It is also very important to notice how iterative methods are not synonymous with the lack of vision or 'instant gratification'. On the contrary, they are invested in the foresight that points toward repercussions, imbalances, a project's impact on different departments and its ability to create and sustain value in the longer run. It is also interesting to make note of how an AMO or its equivalent agile governing agent is hands-on and believes in different phases of approvals, thereby ensuring minimal changes once the product scales. While traditional documentation is not  enforced on the team itself, the idea remains that enough documentation is made to highlight the 'rationale' behind decisions that justify the investment.
Governance agents have a more introspective body of work to take on than you'd imagine because ultimately, having the enterprise's long-term goals defined is an absolute non-negotiable to have coherence amidst iterative plans. Also have tangible, team- specific goals for your people instead of a unified approach. You will, in the bargain, witness the better side of agility and will develop a culture that nurtures.

Nityashree Yadunath