Every project manager knows competing interests abound when managing multiple projects. But trouble rears its ugly head when you're unsure of the type and quantity of people, material and capital needed to accommodate shifts in demand.
After all, when a new project is deemed a high-priority, it takes precedence over ongoing project activities overnight, momentarily displacing critical resources.
Planning for changes and the risks associated with them is what a Project Management Office does best, (within reason). Apart from assessing project fit in its entirety, one of the core objectives of a PMO is to plan deliverable releases against a comprehensive resource chart. This not only depicts how your resource pool is positioned but also lets your project teams stay atop of their commitments.
How resources are shared between projects depends on whether two or more projects are mutually exclusive or not. If they happen to contain interlinked task dependencies, the next step would be to look into resource profiles in terms of the skills needed and staff availability for the timeframe under consideration. This post explains why it's in your best interests to understand the PMO resource management process thoroughly. Beginning with the pressing question;
What challenges does a resource management PMO encounter?
With multiple projects whose scale, duration and complexity differ widely from one another, it's all the more important to align the right people to the right projects.
The inability to retrieve acute insights into team placements presents a resourcing roadblock to the resource management PMO. For one, project and resource managers are left to deal with unplanned resource requests. With the project clock ticking, the challenge here lies in the time taken to tap into potential from within. Qualified staff are either booked on to other project activities or are unavailable for the period their services are requested for, owing to absences and/or training schemes. Worse, reordered priorities cause know-how and skills matrices to shift as well. So here's how you stay a step ahead of the challenge-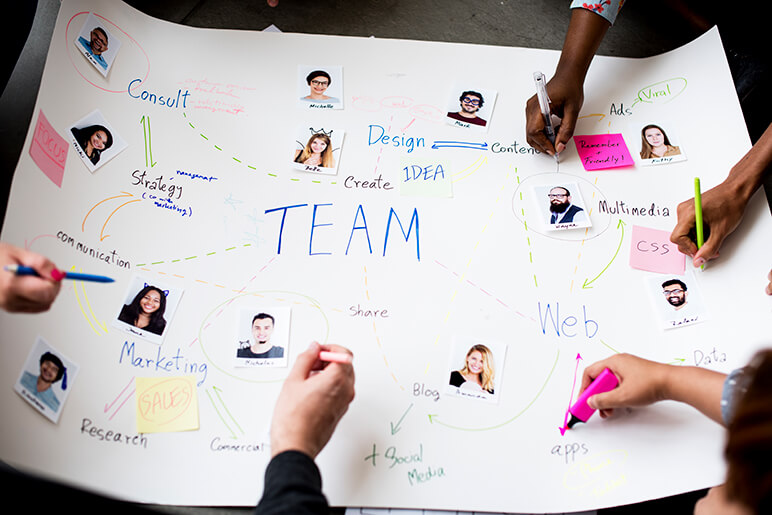 A. Optimal workforce allocations
Optimized resource allocations remain a disturbing concern in project planning, largely because non-project activity remains unaccounted for when finalizing deployments.
In the PMO resource management process, maximized productivity means that no particular employee should be over or under-worked. From early burnouts that demoralize employees to a rise in benched resources whose value isn't getting timely recognition, the challenge PMOs face is in bridging the gap between staffing project vacancies and minimizing the dreaded bench-time clunk.
The PMO can resolve this challenge with a complete understanding of the benefits of resource scheduling. Besides unending visibility into schedules that informs you of who is allocated on to what, the PMO can access a unified system of records to compare resource availability, capacity and utilization rates. The difference between actual and planned effort-hours can be leveled with What-if scenarios. Not only does it bring out a project's true billing worth but also prevents anyone's effort bandwidth from being stretched thinly.
B. Capacity planning and demand management
Capacity here refers to the resource supply, i.e.quantity and quality of staff on hand. It's further complemented by a resource inventory that profiles your employees by their attributes which include ongoing commitments, competencies, qualifications, location, training certifications undertaken and experience, to name a few.
When demands within the project pipeline shift, contributions made by different resources are impacted, too. The challenge here is that an incomplete representation of project demands causes a mismatch in skills and resource types required. The PMO consequently has no insight into troubled projects once it's underway and can't intervene in time to detect and bridge skill gaps.
Worse, siloed information concerning both capacity and demand result in overlooking staff who are familiar with the project under consideration and therefore require minimal orientation. The end result? Projects misfiring, unhappy staff and increased labor costs. In fact, Gallup's findings reported the cost to replace employees was 150% above the average salary bracket.
Predictive analytics lets the PMO resolve this challenge by forecasting which resources within the existing capacity can be locked in for pipelined projects. It does this by estimating project conversions and which ones demand more effort bandwidth and monetary investment. The PMO can then maximize resource utilizations across the enterprise such that no project suffers a last minute resource insufficiency.
C. Task planning with resource capabilities analysis
In PMO resource management, conflicting interests abound concerning doing the right projects and getting projects right, especially with respect to leveraging potential.
What's more, the project backlog piles up when priorities are rearranged to fit newer commitments which induces changes to the project schedule as-is. Planned tasks are abandoned when staff working on them are taken off of it to reorient around new work.
The problem being, that complexities and dependencies linking two or more previous task remain shrouded in mystery. Despite continual reminders during collaborative meetings, the chances of deploying the wrong set of capabilities remain high, causing your staff to miss project milestones or request extensions on time-sensitive tasks.
Analyzing resource capabilities (i.e the right competencies) and capacity (adequate supply of staff with the skills for the time requested for) lets the PMO devise a strategic roadmap when it comes to mobilizing the right competencies in the right places. Additionally, the PMO can identify your resource pool's secondary strengths such that knowledge transfers capture diverse fields of interest. Project teams can then incorporate their learnings into project reviews which helps future teams make informed decisions.
D. Resource requisitioning
The final challenge in pmo resource management lies in anticipating resource requests and filtering them out by urgency, date and matching projected availability against your staff's ability to deliver.
Finding the right people in time and aligning their reskilled efforts and experiential prowess onto the right projects becomes a time-consuming affair. For one, not everyone sees every request on time, resulting in delayed communication between departments. The longer it takes to find a resource who has the time and skills you need, the further you are from the project finish-line.
Scientific resource requisitioning resolves issues revolving around dated requests by looking into project statuses to level planned and actual work. Depending on whether projects finish ahead of schedule, on time or risk exceeding the proposed duration, resources can be released accordingly. This way, the time left between the current and next project activity can be optimized. What's more, it blocks schedules by including staff absences, upskill/ re-skilling schemes and non-core work. Requests for additional resources are captured across the enterprise by departmental resource management PMOs who can then re-assign resources on standby possessing the same level of skilled judgment.
Over to you:
Now that you've a fair idea of the PMO resource management process, it's time to convert these challenges into opportunities. Let us know if this resource-centric take on PMO challenges caused you to reconsider proactive workforce efficiency!

FREE eBook
The Definitive Guide for Resource Planning and Forecasting
Download
Namratha Mohan