Organizations that yearn to gain and sustain high-maturity have turned their attention towards setting up their very own Project Management Office(PMO).
A lot of thought goes into building even your garden-variety Project Management Office. After all, as the nerve-center of the organization, a PMO exists to give strategic direction to enterprises so that different departments react appropriately to grab the right market opportunities. As such, every PMO comprises of project experts who've witnessed every stage of the project lifecycle, right from its initiation and strategic planning to its closing and delivery. But a closer look behind the scenes would tell you that it takes efforts of monumental proportions to win buy-in from the very start, particularly on transactions that have competing interests from several stakeholders.
The idea of building and setting up a Project Management Office invites considerable objection. Many firms plough ahead with the decision though, considering that plans to branch out and expand require a global strategy.
While the challenges depend on the environment you operate in, it's time to investigate those PMO challenges that appear irrespective of the industry you operate in and subsequently adopt measures proven to help your PMO help you!
Want a Heads Up on Common PMO Challenges?
The first (and rather obvious) roadblock to a PMO is bringing your Steering Committee, project managers, sponsors and teams on board. Informed consent on PMO governance not only lets you create a master list of the priorities but also makes it easier on your stakeholders to understand the direction the enterprise plans to take in future. The chances of dealing with a bunch of disgruntled stakeholders are minimized once they see where and what type of long-term benefits the firm stands to gain through relevant ideation.
Areas of concern that impose challenges include
1. Viewing the PMO as an unnecessary overhead
A PMO can't influence or enforce a different behavioral model in any way, for no two project managers think alike. But what it does, is establish ground rules on governance and change management in accordance with your business sector. This is due to the fact that when leadership changes hands, so does what gets communicated to your staff. Moreover, you'll manage your processes efficiently once you know which metrics can help you get quantifiable success.
Communication is a critical component of project and portfolio management. And yet, keeping the right people informed is greatly underestimated. Reasons include guesstimating the level of involvement, support and investment you'd require from your senior management, which results in projects not staying the course due to decisions being abandoned midway or miscalculated
The communication barrier only increases as your C-suite personnel's availability and interest levels fluctuate. With the implementation of program strategies resting heavily on their approval and understanding, many initiatives you envision working on ends up being either repeatedly rescheduled or stalled indefinitely.
Your employees, meanwhile, continue to remain in the dark about internal and external factors affecting business continuity. They'll unintentionally follow outdated practices which brings about a mismatch in effort and task completion estimates . And when you have many such projects, a lack of clarity over roles and responsibilities just makes this a lot worse!
Setting up a PMO does take money, effort, time and valuable resources ( in terms of their seniority and expertise in project leadership). This is misconstrued as stealing them when they're already pressed for time on something that can't promise immediate results. But you risk missing the big picture if you consider the PMO solely as an overhead cost. As a champion for change, the PMO provides factual reports and data points from market research and historic transactions to help you take finite decisions. Consequently, once everyone knows how the project and program pipeline is curated and who they should be reporting to, their potential can be tapped into in its entirety.
2. Project and Program Prioritization
When you're just starting out, every project would seem exciting, doable and highly-beneficial, all at once. Halting ongoing work to fit in these newer projects causes your teams to lose track of what needs doing first. It's only when they actually rework items that you realize a trillion things can go wrong, right from complicated tasks that require skills your teams currently don't have to overcommitting valuable resources to projects that will never finish.
The best way forward when prioritizing projects and programs would be to perform a cost-benefit analysis on them to see how the two weigh out. For example, if the costs are low while the benefits stood to be gained are plenty, it would make sense to actively push the project further up the pipeline. With this technique, you'll even get to remove unfeasible projects that litter the organization and sink your investments into project deliverables that finish without violating any or all of the triple constraints of time, scope and budget.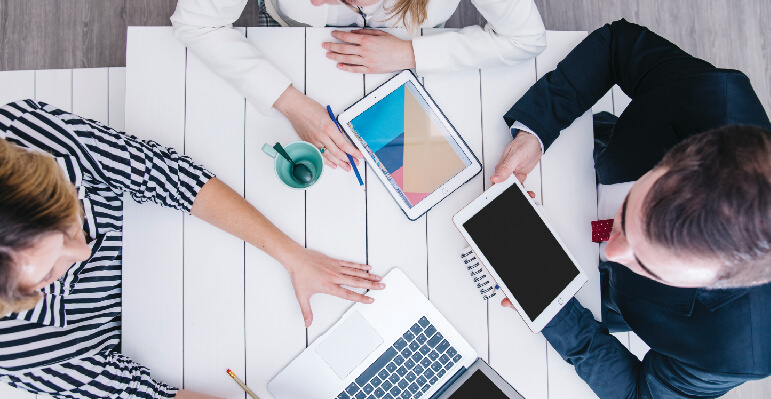 3. Resource Management
A project is only as good as the manpower and equipment behind it. If your project managers compete with each other for valuable resources half the time, it affects their objectivity when it comes to aligning their teams' skills to project tasks. They guesstimate their availability and engagement levels and end up overloading seasoned experts at the nth hour. Even then, you'd find a gap between project bench-time clunks and vacancy fulfillment.
A PMO prevents this from happening by mandating resource usage in terms of allocations, utilization and true capacity for years on end. It gives you the numbers on what your teams have been upto on previous endeavors and the percentages of time spent on both core and non-core work, allowing you to level schedules optimally for ongoing and future projects.
4. Identity Crisis
Every PMO carries a unique identity in line with the objectives it sets out to achieve. An identity crisis, however, prevails when it deviates from the objectives originally set out and the mission statement is lost in the process. Your PMO's longevity hinges on how successfully long and short-range goals ongoing program and project delivery are being met.
Your Steering Committee would be interested in reports outlining performance within 2-5 years of the PMO setup. The key differentiator here is to forge the PMO's staying power such that it transforms existing business processes AND be flexible enough to adapt to change. The wiggle room is important, given that demand and supply graphs are unpredictable. The PMO would have to compare known user behavior, and purchase hotbeds to know what sells. The concerned project teams can then utilize blended strategies in their ideation, from product design and execution to delivery, thus aligning their work to what the consumer truly wants and needs.
Whether you intend your PMO to be directive, controlling or supportive in its function, this 3-part customer centric plan lets your PMO
a. Level real and perceived value: value speaks volumes of services, so offer services that your teams are truly capable of delivering while highlighting milestones reached.
b. Avoid goldplating: Goldplating not only changes the product and/or services' scope and functionality (and not always in the best way) but also risks sending off the distinct vibe that you haven't revisited the client's expectations documented in the project brief.
c. Consider a project manager's expert opinion: As the lifeline to any project, it's important to keep your project managers just as satisfied as you would a client. Don't police your project managers. Instead; have them escalate issues via established protocols so that they know how to report their success stories, concerns and findings back to you.
5. Unstandardized Information Distribution
Data is the epicenter of your organization, given how instrumental it is in making informed decisions. But an atypical PMO challenge presents itself with regards to its usage. And this lies in determining if the right people saw the right and relevant information on time.
This situation arises particularly with departmental PMOs whose operative climate is interlinked to one another. For instance, a finance PMO would need purchase order invoicing from your sales team and payroll information from HR. However, if each of these departments rely on home-grown tools developed in house, boundaries of usage starts to crossover, making processes murkier. As a result, collating different reports consumes several hours without guaranteeing the information being sent out is accurate and whole.
To make a start towards uniformity, the answer lies in having a PMO adopt a project portfolio product suite configured per user per department. Not only does it give your PMO control over how information is seeded at a higher level but also prevents you from overloading C-suite executives with a barrage of information. It speeds up report requests such that registered users can access it at their convenience. They can then point out fallacies, if any and have the right authority explain and justify it to them in later stages.
Another downside to home grown tools is that they hide data entry errors which propagates forward across facts and figures. When you use components that don't aid you in your operations, the errors snowball, forcing your PMO to take a firefighting approach rather than a proactive one.
While change is a necessary evil, stakeholder support lets you counter PMO challenges. Knowledge is a powerful tool. And the more knowledgeable your stakeholders are about project milestones, risk registers and deviations in budgetary allocations, the better equipped your PMO is to respond equally to both threats and opportunities.
Considering the wealth of experience and situational judgment your PMO possesses, you'd know how to approach a situation you haven't previously faced. Your PMO can help you ascertain a project's true worth by assessing its cost and schedule variates. This lets you identify the factors that helped projects stay on track, which milestones were reached within the expected duration and subsequently create an issue management sheet that you can revisit to curate your project portfolio precisely. Your team, on the other side, can record their experience and lessons learned based on how challenging individual project activities were. This minimizes chances of rework on future demand, based on the accuracy of previous estimates.
Did this trivia on PMO challenges intrigue you? Add more to it from your memory recall and let us know how you countered them!

FREE eBook
The Definitive Guide for Resource Planning and Forecasting
Download
Namratha Mohan