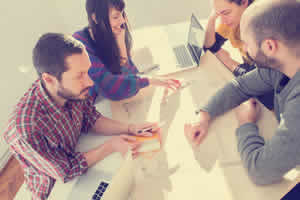 What you seek in a management tool is a solution to a problem. In this light, technology is a mere enabler, while the idea should, in reality, solve your predicament. But given the lightning-like speed that technology updates have, it is easy to get carried away and forget why one was looking for a tool. The rule of thumb, is to then, adopt a tool that lets you be as flexible as you'd want to be!
Good solutions are not those that are specifically built to cater to the needs of an industry or a team type. They are those that are highly adaptable to the requirements of the end user, so much so, every team that begins using the tool can find their exact requirements, within the tool. This rings especially true for a resource management solution, the benefits of which must definitely include the fact that the tool fits around your style of management.
The absolute flexibility to 'DIY' your own resource management solution from the list of possible features the tool provides, comes with plenty of perks. Let's understand them in this article –
1.Your project, your resource management methodology
No two project managers think alike. But all resource management templates certainly look alike. On the other hand, the dashboard of a customizable tool will reflect a manager's way of handling the team's resourcing requirements. This speaks volumes about what sets a customizable tool apart.
Having settled for primitive tools, managers often feel like their creative problem-solving abilities are crushed under a rather unsupportive tool. More importantly, a tool that forces your horizontal management style to undergo a traditional makeover, can never help you find the problem-areas, to begin with!
The advantages of a customized tool include its ability to fit the different shapes and sizes of employment contracts (full-time, part-time and contractors) as well as project types (billable, non-billable and others). This directly helps in managing the different scenarios the demand pipeline challenges you with, as well as account for different shifts or schedules. In effect, you can solve problems armed with the strength of enterprise-wide visibility as well as actual status updates.
2. Empower employees to be better decision-makers
As much as decision-making is an acquired skill that you perfect as you climb the ladder of success, it also requires the right information, supplied in the right doses. The biggest incentive of a customizable tool is the fact that, it can be designed to provide selective as well as unconditional bouts of information based on the end-user.
A global leader, a department head, a project manager, a team leader a junior employee… Everyone is a decision-maker from the project's perspective, albeit the disparity in the impact their work causes. So, to help them give the impetus to take effective decisions, it is essential to make the tool a universe that they resonate with. A project manager would need his project updates while a department head would want a high-level overview.
Instead of having all users boxed with a barrage of information that they don't require or ending up with tools like spreadsheets that cause chaos, a customizable resource management tool organizes the information your employees access. This directly makes processes easy and efficient.
3. Built to scale up with ease
To match the needs of the changing market and that of the overwhelming needs of the project, chances are, your internal processes undergo massive restructures, every now and then. And the resource management tool you deploy must help ease the confusions that follow such changes, as opposed to adding to them.
Also, the tool must help you process these changes without too much delay. Let's say 5 of your core part-timers transition onto working full-time. You want to be able to see these transitions and take up more project commitments as and when such opportunities arise. Similarly, in case of scaling back, you'd again want to keep the projects proportionate to the capacity. In case of a new office half-way across the world or a group of remote workers you work regularly with, you'd again need the visibility and the control over reports even without being around.
The unconditionality of a customizable solution is, therefore manifold.
4. Modify and integrate other applications to have a single version of the truth
Teams that are not thinking technology are finding it increasingly difficult to survive the big, bad digital age. So, the resource management tool you land on must accommodate for this fact with the capability to integrate with other applications and programmes that your company might be invested in. This way, you avoid data duplication and at the same time have a niche tool that does with perfection, what it is meant to.
Integration is further important to help you factor in expansion, diversification, edit details and share data with the rest of your organization. Integration must encompass CRM, HR data integration as well as excel and print output. Depending on the extent of your usage, you must also be able to sync email notifications, have calendar alerts in place and have tools that complement one another.
5. Use as much or as little as you want to
The only rule in the book when it comes to choosing a tool is – 'have no rules'! From the screens and reports that you can have to the email and alert notifications you'd want to configure, the tool you choose should let you be the boss when it comes to the views you have or the fields you log. This way, not only is the information you can extract tailor-made to your requirements but you'll also enjoy as much ease of navigation as you'd want.
Most importantly, you should be able to pay for what you use and not a flat rate that might only factor in the tool's functionalities that is independent of your own needs. In short, the flexibility of a buffet that lets you pick and choose dishes you only absolutely enjoy is a trait that will also be very effective when it comes to your customizable resource management tool.
The customization of a resource management tool and its victories can be chronicled in the efficiency standards enterprises like Siemens have been enjoying. Go ahead, it is time that you too experienced the realities of a resource management tool of the future! Sign up for a trial, today!