Uniform allocation of workload is imperative to maintain resource health index and ensure completion of projects within time and budget. Over or under-allocation of the workforce can lead to a loss in employee productivity and restrict the project's progress. Resource loading is therefore a critical project metric and has a major impact on the project timeline.
For instance, you are required to schedule a high-priority task for one of your resources. If you load the right experienced resource to the given task, it will be accomplished faster. On the contrary, if you load a less-experienced employee for the same task, it will cause delays.
The strategy and method that project managers follow for resource loading is one of the deciding factors for a project's success.

This article explains important concepts pertaining to resource loading and its significance in project management in detail.


Let's begin with understanding what is resource loading:-
1.What is Resource loading in project management?
Resource loading is defined as the total number of scheduled hours divided by the resource's total capacity. The manner in which managers load the resources decides the course of project execution and timeline. It can be calculated on a per day/per week/ or monthly basis.
This is how you can calculate resource loading,

1.1 How to analyze and calculate resource loading?
Resource loading = Scheduled hours per time period / Hours of capacity per time period
These resources can be booked for more than one task at once subject to their availability and capacity. For example, a resource can be loaded to 60% of its total capacity to perform one task and the rest 40% on other tasks. These tasks can be BAU/admin or more.
In other words, if a resource is available to work for 8 hours a day, he spends 4.8 hours towards the actual task. The remaining 3.2 hours is used to attend meetings and carry out other related work. For calculating resource loading, we consider the total number of hours that he spends on the actual task instead of available hours.
Another critical factor that enables managers to utilize their workforce most efficiently is resource-leveling. Even though resource leveling and resource loading enable efficient resource scheduling, they have certain notable differences.

Here is the explanation,
2. Resource loading and leveling
Resource leveling is a technique that adjusts the project's start and end dates based on resource constraints. On the other hand, resource loading refers to allocating the right resources to the tasks at the right time. Project managers have the leeway to predict future demand in advance and hire additional resources to fill the gaps.
Supposedly, if you have 3 ongoing projects with a headcount of 30 employees. In resource leveling, employees will be scheduled for the project that needs to be completed first or is on a critical path. Whereas, when it comes to resource loading, the workforce will be allocated to the project tasks at every required stage subject to priority.
In short, resource loading considers the manpower and their availability. This may lead to a delay in meeting project deadlines. On the contrary, resource leveling weighs up both resource and timeline. It helps to ensure that high-priority projects with tight timeframes are accomplished without causing any delays and budget overruns.

3. Resource loading chart
To avoid over or under-allocation of resources, project managers must have centralized visibility of all the resources and their schedules. In addition, an overview of resources' cost rates is equally important to control the project budget. Resource loading chart facilitates managers to view these attributes at a glance and load resources accordingly.
The primary function of a resource loading chart is to ensure management and scheduling efficiency. Thus, it's imperative to ascertain that resources' schedules, tasks, costs, and skills are plugged in and updated on a regular basis. With a Gantt chart view of resources' costs, managers can load cost-effective global resources to complete the projects without compromising the quality.
Moreover, with a comprehensive view of the schedule, the decision-makers have the provision to optimize the utilization levels of the workforce. This will prevent over or under-utilization of the workforce and eventually loss of productivity.
A resource loading chart is a vital part of the resource loading process that helps in enhancing scheduling accuracy and project profitability.

Let us now understand the factors that influence resource loading,
4. Factors that influence resource loading
It is unrealistic to assume that the workforce will be available 100% of its capacity to do productive work. Every employee needs to take some break from their regular routine or spend time performing other administrative duties. It can vary depending on the industry and nature of work.
For example, a shop floor worker's job is repetitive, while a specialized consultant needs to be more creative. One cannot expect the same resource loading for these two different roles. Following factors can influence resource loading:
4.1 Profitable Utilization
A person working full-time on a project is not necessarily productive. It depends on how much time the resource is spending on doing billable or strategic work. Therefore, it is required to constantly monitor each resource's overall utilization and pro-actively move them from non-billable to profitable activities. It can be effectively managed using appropriate resource management software.

4.2 Tight Budget
A tight budget means there is a resource crunch to deliver the project. In this situation, there is a tendency to have less interaction with the employees and make them work for a long duration. While you may get additional output from your workforce in the short-term, the employees will feel disconnected in the long run.
4.3 Skillset required for a given task
If the right skilled resource is assigned to a project task, you can expect higher productivity. It is because less time will be required to understand the nature of work and knowledge transfer.
On the contrary, if the resource spends significant time learning on the job, it will affect the output and corresponding resource loading. All of these factors need to be considered while doing resource planning.
4.4 Type of Workforce
Depending on the nature of the assignment, the project manager chooses to use either freelancers or full-time resources to complete a task. The freelancers are selected for short assignments or having some specialized skillset and often cost more.
Therefore, the project manager tends to utilize the freelancer or contract resources more for the actual work. It results in higher resource loading for the contingent workforce over regular employees who spend more time in other organization-specific activities.

4.5 Administrative Control
A resource is productive when the tasks are correctly defined, and there is no idle time between two activities. Sometimes due to an administrative bottleneck, a resource is not able to start the next activity. As a result, he is forced to keep himself busy with other mundane activities, which affects his resource loading. An effective resource management software with proper planning will ensure that there are no such challenges.
When resource loading is not done appropriately, it can have serious implications on resources' utilization levels, productivity, and engagement. It will gradually restrict the project's progress.
Here are some of the consequences you may come across:
5.Consequences of inaccurate and overloading of resources.
5.1 Loss of employee productivity
When employees are over or under-allocated, it may lead to burnout or inefficient utilization of their skills. Moreover, if they are booked for non-billable or admin tasks, it will reduce their billable utilization. When their talent is not leveraged at its best, it will result in lower productivity levels.
5.2 Delays in project deadlines
Inappropriate resource loading is a sign of inefficient project resource planning. If less experienced resources are scheduled for highly-specialized work, it will cause delays in submissions.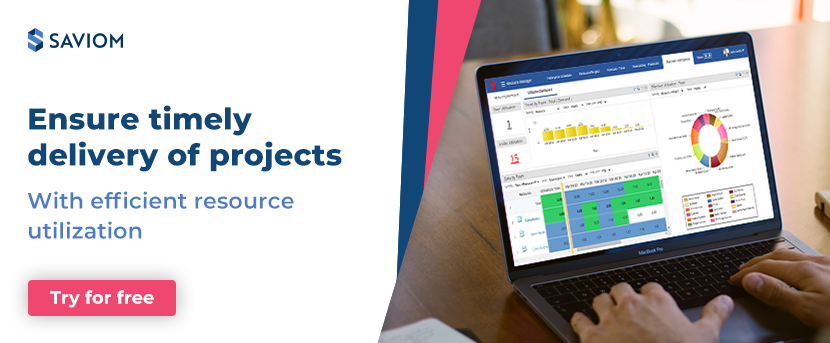 5.3 Decline in employee morale
Decreased productivity and inadequate exploitation of resources and their skills bring down their morale. Employees are not at their productive best when their work does not add value to the organization.
5.4 Unplanned employee attrition
Employees look up to their leaders to provide them opportunities to grow and unleash their true potential. Incorrect or wrongful resource loading does not fulfill their expectations. When the workforce feels that their expectations are not met at their workplace, they will look for opportunities elsewhere leading to unplanned attrition.

5.5 Decreased profitability
Sub-optimal resource utilization and inaccurate resource scheduling directly affect the project's progress and quality. When clients are not happy with the results, it will cost you the client thereby reducing the profitability.
Owing to these consequences, resource loading becomes an important parameter in deciding a project's success.
Here is the wrap-up of the blog and some dos and don'ts for performing resource loading:
6. Conclusion
Do's
Have a unified view of the resource's capacity and project demand. Along with this, use a resource loading chart to get a glimpse of the resource's profiles and their schedules.
Construct your project plan keeping certain percentages for resource loading in mind as per your industry. 60% is a good number to start until you have established this value.
Develop a resource allocating strategy and utilize cost-effective global resources to control the project budgets.
Load resources with billable work or mobilize them from admin tasks to strategic or billable tasks and increase their productive utilization.
Maintain a balance between resource loading and leveling to ensure timely delivery of projects.
Keep resource availability in mind when loading them with tasks. Developing realistic employee schedules is the key to eliminate delays in deadlines.
Allow sufficient buffers to plan your resources so that there is no last minute challenge due to resource loading.
Don'ts
Do not use silos of spreadsheets for resource loading. These disparate tools may lead to double-booking and over-utilization.
Avoid loading less-experienced resources for highly-specialized tasks and high-priority projects. It will cause unnecessary project bottlenecks.
Do not load 100% of your employee's capacity on one task since they might be working on other admin tasks.
Do not forget to plug-in employee leaves in project plans as it may cause certain obstructions and delays.
Do not overload a resource to similar tasks for a continuous period. Provide them a variety of experience to keep their interest level going.
Do not overcommit on your project timeline by taking unnecessary risks as this can increase your resource loading and lead to more stress for everyone.
7. The Saviom Solution
SAVIOM is the market leader in offering the most powerful and configurable solution for managing your enterprise resources effectively and efficiently. With over 20 years of experience, this Australian-based MNC has created its global presence across 50 countries and helped more than 100 customers achieve their business goals. SAVIOM also has products for project portfolio management, professional service automation, and workforce planning software that is customizable as per business requirements.