The project management landscape invites new tools that promise to improve existing business processes. Getting projects right matters as much as doing the right ones, which is why the search for a project portfolio management tool never truly ends. After all, frequent changes affect an enterprise's ability to respond to the 'when', 'where' and 'how?' of business-centric activities. Checking that your portfolio contains the right number of strategically aligned projects, therefore, ensures that the company's long-term objectives are met during times of change.
There are manifold benefits to automating project portfolio management processes with a dedicated tool. For one, not only will you have a project repository that systematically profiles doable projects but also lets you determine if the project is even worth taking up right away (Do-it-now) or at a later date.
What's more, you can identify similar work carried out previously which is immensely helpful in guiding future project teams should they get stuck on time-sensitive tasks. An extension of this foresight is that your stakeholders can gauge the project's intended financial and non-financial returns in order to make informed decisions. Procuring a project portfolio management tool lets you contain both risks and overrun constraints. Plus, it comprises of a resource management module that minimizes schedule conflicts, ensuring your staff's effort bandwidth isn't stretched thinly.
With several such specific benefits in having a PPM tool, the next step is to have your tool's evaluation criteria in writing so you know what to look out for. The process is quite similar to a grocery shopping list. You itemize what you're missing and/or running low on and identify their criticality. Only then can you stick to the plan and spend to find yourself a value deal! So,
What features in the PPM tool's criteria should you be eyeing?
To leverage the most out of a project portfolio management tool is to know where it works best.
Given how several different tools are consolidated within an information system, the first uncertainty over a new tool hovers around its ability to fit seamlessly with existing systems without disrupting routine processes. And for another, whether all users who are supposed to use it will extract the most out of it post-migration.
Data would have to be populated into the correct slots in order to generate reports that make sense to the end-user. Here're the markers you should look at in the attempt to link people, projects and processes together:
1.Voluminous database
The PPM tool you're eyeing should have expandable storage in line with shifting project and workforce demand. It's from here that you'll see project statuses and changes associated with their constraints. When several projects in the pipeline get approved, the database should store information concerning their duration, resources requested and interdependencies to determine if two projects are mutually exclusive or not. With information this comprehensive, you'll be in the position to gauge if your resources are being shared optimally. Besides this, the database should be able to auto-populate records with data pulled from existing systems.
2. Governance and security
The tool should contain internal protocols that store project portfolio and resource information securely. As more users are added to the system, its multi-layered access levels should authenticate them by their credentials. Further, as part of the enterprise's overall governance implementation, the tool's audit trail has to reflect who made what kind of changes with precision, especially to the PPM workflow. This leaves no room for confusion among staff. For example, when a project manager accesses and edits master schedules within the department they're in, team resource bookings should reflect total availability post filtering out absences and training schemes for the duration in question.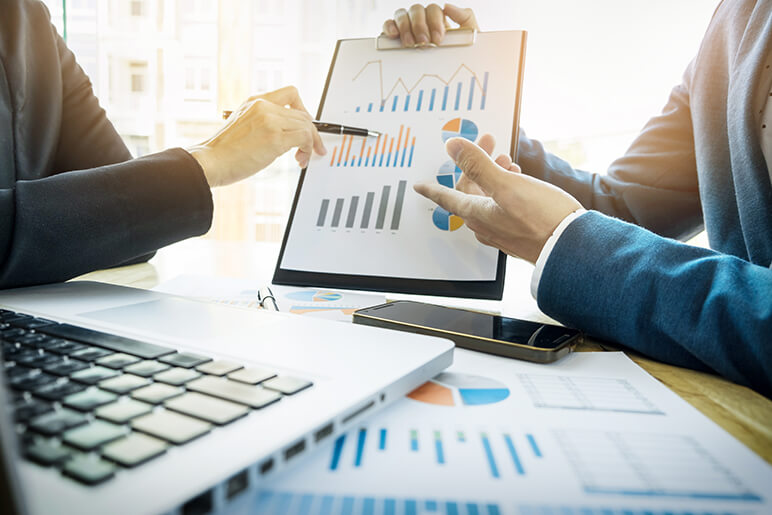 3.Transparency in Visual Reporting dashboards
As they say, the more visual the tool, the better informed the decision maker.
The quickest route to assessing how several projects on the boil are faring is through reporting analytics. Reports generate statistical and historical data to output futuristic projections, predicting the probability of the project falling behind, staying on track or finishing ahead of schedule.  Besides complementing intuition with actionable insights, real-time big-data influences lateral thinking which lets you ideate on an improvised project strategy.
More pertinently, as part of the report filtration process, one must take into consideration the level of granularity. In other words, when evaluating a PPM tool, the reporting dashboards should contain data streamlined from different information sources without rendering an output that's difficult to comprehend. Given that different users look up different types of information; relevance, ease of access, convenience and simplified numbers is what it all comes down to. Therefore, a unified system of records should be a primary factor in the project portfolio selection criteria.
A reporting dashboard lessens the number of steps needed to reach project-centric conclusions. With status reports to monitor project expenses incurred against the type, time and number of milestones reached, the PPM tool assimilates, records and prioritizes those parameters that reflect accurate calculations, thus mitigating any project overruns.
4.Financial and risk analysis
The PPM tool evaluation criteria let you decompose the project plan into buckets of strategy, resource, budget and schedule. This step is crucial in determining the risks a project carries because while inevitable, risks aren't entirely impossible to resolve.
The PPM tool's inbuilt risk register should be intuitive enough to gauge the firm's risk appetite and classify risks by their likelihood, severity, areas affected and mitigation measures. This aids in the decision making arc during the project evaluation stage.
Consequently, the resulting project portfolio is optimized with decisions that account for real project choices, such as the risk of not doing a project altogether or opting to take it up later.
The PPM tool evaluation criteria being met here by quantifying project risks is that you assess the constraints of time, scope and costs being overrun, in order to create a contingency plan in advance. This also includes balancing spend levels for pooled projects so that the budget allocated isn't exceeded but is rather scientifically reused to advance a project's momentum.
5.Project selection confirmation
Selecting and confirming projects hinge on both the feasibility as well as value realization. Simply put, in terms of benefits planning, if the costs outweigh or override potential benefits, such projects can either be taken off the pipeline altogether or placed on hold to assess if the financial returns proposed to occur at a later date.
Besides, the selection criterion for a PPM tool should account for change requests with respect to the original scope. The PPM tool's ability to provide real-time feedback to users on the impact of changes against project value lets you compute the project's urgency. Besides which, a cost baseline can be established against which expenses incurred can be compared and tracked.  Once you have all this information, you can assess individual sources of value within multiple projects (customer satisfaction rate, efficiency output, return on investment) in order to curate a portfolio with high-visibility projects.
6.Scientific resource management
Several enterprises are increasingly relying on a gig workforce comprising of different resource types in order to remain cost-efficient. It comes as no surprise then, that the project portfolio selection criteria would include a resource management module.  A summary of your workforce profiled by their competencies, experience, existing commitments, future availability, billing worth, and geographic mobility gives you a holistic overview of your resource capacity.
When this is intrinsically embedded into the tool, capacity can be weighed against upcoming demand such that you not only know the exact quantity and type of resources needed but can also assess the number of projects that are missing the critical staff. In other words, you'll finalize schedules for both in-flight and pipelined projects. You'll instantly retrieve project insights such as those projects that finish early, freeing up resources for the next activity in the queue.
Additionally, the resource management module indicates how many resource requests were raised and resolved, letting you bridge the gap between project vacancy and employee bench-time. What's more, taking idling resources off the bench lets you reassess their long-term fit in terms of skills relevance and market-ready knowledge.
Over to you
The transition to a tool, particularly one that lets you manage a portfolio of projects, should be as seamless as end-to-end project delivery. And with these integral components that complement each other functionally, you'll not only foster effective team collaborations across the enterprise but will also have a pool of resources at the ready for newer project challenges!
How many of these features made it to your PPM tool evaluation checklist? Let us know which ones in here resonated with your project practices the best!

Namratha Mohan